Military status discrimination is serious problem, and it is only getting more common due to the large numbers of veterans who have returned form the battlefields of Iraq and Afghanistan and other locations in which the war on terror is being waged. United States service members who decided to put their lives at risk, and defend our way of life deserve better that coming home to face employment discrimination as a result of their military status.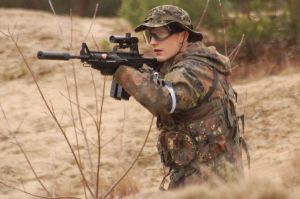 According to a recent report from 760 KFMB, a group of military reservists who are employed as federal agents with the United States Drug Enforcement Agency (DEA) have fled an employment complaint in which they allege harassment and discrimination by their employer. Two of the agents gave an interview in connection with the news report in which they have stated service members should not be treated as second-class citizens by their employer.
As a United States Marine Corps reserve officer, he is required to take time of from work for training and to during overseas deployments, which are required as part of his service commitment. He alleges that DEA managers do not like when applies fulfill their service commitments if that means taking time off from work. With respect to the harassment, he stated manages routinely come by his desk and tell him he must get out of the military because he "can't serve two masters."
In addition to this type of alleged harassment, plaintiff's say they are routinely harassed in other ways by their employer regarding their military service and are denied promotions and better assignments because they are required to take time away from work.   The majority of DEA agents who signed the complaint work at a field office in California, and it is expected more service members will join in this action in the near future.
As part of their employment discrimination action, plaintiffs are seeking back pay, promotions to be applied retroactively, money damages and a requirement all agency management and supervisor to under go employment discrimination training to prevent this situation from repeating itself in the future. Managers from the DEA and an agency spokesperson said they could not discuss the situation because there was ongoing litigation.
As our Orange County employment discrimination attorneys can explain, not only do service members deserve better, but service based discrimination is a violation of both state and federal law. Specifically, service members are offered protection from this type of discrimination by the Uniformed Services Employment and Reemployment Rights Act (USERRA). USERRA provides a variety protection against service-based employment discrimination and requires that employers return service members to their previous jobs after they return for service. While there are certain conditions that must be met, and possible exceptions, it not only protects current services, but also veterans who have retired from or separated form the military before returning to work in the private sector.
According to USERRA, an employer cannot take into account a service members membership in the military, application for membership in the military, or service obligations when making any decision involving hiring, firing, or terms and conditions of an employee's status.
Contact the employment attorneys at Nassiri Law Group, practicing in Orange County, Riverside and Los Angeles. Call 949.375.4734.
Additional Resources:
Military reservists allege discrimination by DEA management, May 19, 2015, 760 KFMB
More Blog Entries:
Walz v. Ameriprise Fin. Inc. – Mental Illness Discrimination Allegation, March 21, 2015, Orange County Disability Discrimination Lawyer Blog