California law protects workers with mental and physical disabilities. The law defines a physical disability as any disease, disorder, condition disfigurement or anatomical loss which limits a major life activity. Workers who suffer from physical disabilities are entitled to reasonable accommodations which will enable them to perform their job duties. When employers refuse to provide reasonable accommodations, employees have legal claims against that employer. Disability discrimination is a very real problem for many California workers.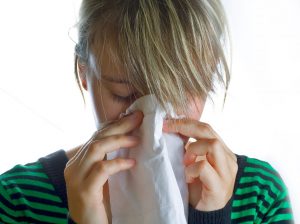 But what legal rights does an employee have for mild medical conditions? Mild – but chronic – medical conditions can still interfere with an employee's ability to perform his or her job duties. When this happens, the employee is still entitled to reasonable accommodations. The failure to do so subjected the California Department of Transportation ("CalTrans") to a judgement of over $3 million.
A Toxic Work Environment
The CalTrans case started very simply. According to Inquirer.net, an office technician informed his supervisor that he suffered from allergies, and was highly sensitive to perfumes and household cleaners. The supervisor took basic steps to keep these products out of the workplace. For five years, the technician performed his job duties without any problem. This changed when a new office manager was hired. Shortly after this staffing change, the employee learned that harsh chemicals were being used to clean the office, and advised the office manager that his health was being adversely affected as a result. Instead of taking the simple step of changing the cleaning products, the office manager told her employee to stop complaining. She also threatened to transfer him to an office where even more chemicals were used.

The employee suffered from a wide variety of symptoms which eventually kept him out of work for two months. Upon his return, he had to accept a lower-paying position, and was subjected to continued harassment from the office manager. Other employees testified that the office manager actually sprayed the employee's work space with perfume. He was also called derogatory names and told to "shut up." The employee sued CalTrans for disability discrimination. After a trial, a jury awarded him $44,413 in past economic loss and $3 million for his emotional distress.
This case illustrates the serious impact that even mild medical conditions – such as allergies – can have upon a worker's ability to perform his or her job. It also shows how very simple accommodations can be used to avoid serious consequences for all parties. In this case, the simple steps taken by the original supervisor kept the employee healthy and productive for five years. The new office manager's refusal to follow these basic steps cost the employee months of suffering and time out of work. It also cost the employer a worker's compensation claim, decreased productivity from an ill employee, and ultimately more than $3 million in legal liability. All of this could have been avoided by using different cleaning products.
Consult with an experienced Los Angeles employment law attorney any time you have questions about a medical condition or other disability. Workers have disability rights which must be protected.
Contact the employment attorneys at Nassiri Law Group, practicing in Orange County, Riverside and Los Angeles. Call 949.375.4734.
Additional Resources:
Is allergy a disability requiring employer accommodation in California? July 22, 2017 by Joe C. Sayas Jr., Inquirer.net.
More Blog Entries:
ADA Requires Workers Be Able to Perform Essential Job Functions, February 18, 2017, Employment Lawyer Blog