With an increasing number of Americans making a living at their computers, carpal tunnel syndrome had been a rising diagnosis—as well as a concern for employers. In addition to workers' compensation claims that have been tied to the repetitive stress disorder, employers have lost work time and productivity because of the condition. According to a recent lawsuit filing by the Equal Employment Opportunity Commission (EEOC), companies are prohibited from screening employees for carpal tunnel during the hiring process. The lawsuit was filed against a manufacturing company that allegedly used physical test and health histories to identify those who had a history of carpal tunnel syndrome.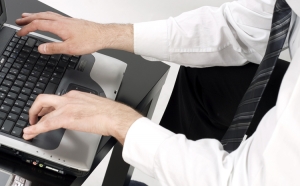 According to the complaint, the company asked its applicants whether or not they had a history of carpal tunnel syndrome. In addition to inquiring, the company went so far as to conduct a nerve text, even though medical authorities do not support the use of these tests or medical records to determine whether an individual has or is susceptible to carpal tunnel syndrome. After conducting medical inquiries and subjecting applicants to testing, the company refused to hire the plaintiff and another fifty or more applicants because of a history of carpal tunnel or the alleged potential to develop it in the future.
The EEOC alleges that the testing and adverse employment action is a violation of the Americans with Disabilities Act (ADA) and filed a lawsuit against the manufacturing company. After failing to reach a pre-litigation settlement, the EEOC filed the suit with the U.S. District Court for the Southern District of Illinois. The EEOC is seeking to end the discriminatory hiring practices, as well as collect back pay and additional damages for those who were denied employment as a result of the medical inquiries and testing.
Individuals who apply for employment may be forced to undergo a series of examinations, questionnaires, and other interview processes. While some of these hiring policies are legal, others may result in discriminatory and illegal practices. If you believe you were denied a position because of a disability, medical condition, or on the basis of gender, sexual orientation, race, national origin, or other trait, it is important to consult with an experienced attorney as soon as possible. Our Orange County employment discrimination law attorneys are dedicated to protecting the rights of employees throughout Southern California. We will take a strategic approach to understand the facts of your case, collect and preserve evidence, and provide counsel on how to best proceed in your case. If legal remedies are available, we will aggressively pursue maximum compensation on your behalf.
Everyone applying for a job should be free of discrimination based on medical records or a past condition. Applicants are also protected against discrimination based on the potential for developing a future medical condition. Any employer that makes decisions based on stereotypes, illegal testing, or erroneous assumptions should be held accountable. The EEOC is responsible for taking legal action against companies that are in violation of federal laws that prohibit discrimination.
Employment lawsuits can be filed with assistance from the Nassiri Law Group, practicing in Los Angeles, Riverside, and Orange County. Call 949.375.4734.
More Blog Entries:
California Employment Law: New new Donor Protection Act, December 7, 2013 Orange County Employment Lawyer Blog
California Worker Wins Wrongful Termination Lawsuit, January 1, 2014, Los Angeles Employment Lawyer Blog