A Federal Law known as the Uniformed Services Employment and Reemployment Rights Act protects the civilian job benefits and rights of members of Reserve components and veterans.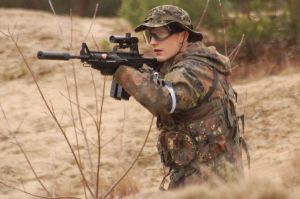 A consultation with an experienced Costa Mesa employment lawyer can help you determine if you have a case for employment discrimination based on your status as a veteran.
The law covers many areas with regard to an individuals status as a member of the military. The Uniformed Services Employment and Reemployment Rights Act (USERRA) establishes the total length of time that an individual may be away from work when serving in the military and still retain employment rights.
USERRA increased the length of time from four years to five years. This means that a service member who is returning to their job must be reemployed in the job "they would have attained" had they not been away to serve in the military.
A military employee returning from service may also qualify for mandatory retraining and training due to their absence. This allows a service member to upgrade or refresh their skills and help them qualify for becoming reemployed.
Pension and health benefits for returning service members may continue for up to 24 months at the discretion of the employee, however, it is possible that they will be required to pay the full premium.
Individuals who have served their country and are now ready to enter the civilian workforce should not have difficulty becoming employed or reemployed. Unfortunately, in many instances servicewomen and servicemen experience a great deal of difficulty acquiring gainful employment upon returning from their tours of duty.
As a service member you may be eligible for reemployment if you meet the following five criteria:
• Your time away from civilian employment was because of service to your country in the armed forces.
• The employer you were working for was provided notice of your pending service in advance of you leaving.
• You were not absent from your former employer for more than five years.
• You returned to your former employer within a time that is reasonable following the end of your service to the armed services.
• You ended your service with the armed forces honorably or qualified for a discharge.
The Uniformed Services Employment and Reemployment Right Act ensures that an employer cannot discriminate against a past or present member of the uniformed service. It also protects members who have applied to serve in the military or who are obligated to service.
Additionally, an employer is not permitted to retaliate against an individual who assist in the enforcement of USERRA employment rights. This includes testifying or even making a statement in connection with a USERRA claim.
Costa Mesa employment lawsuits can be filed with assistance from the Nassiri Law Group, practicing in Los Angeles, Riverside, and Orange County. Call 949.375.4734.
Additional Resources:
Uniformed Services Employment and Reemployment Rights Act, United States Department of Labor
More Blog Entries:
California Wage and Hour Lawsuits May be Prompted by New Minimum Wage Law, Oct. 12, 2013, Orange County Wage and Hour Lawyer Blog
In-House Alternative Dispute Resolution: Hidden Power Imbalances, December 9, 2013, Orange County Employment Lawyer Blog