According to a recent news story from The Daily Californian, a large group of demonstrators were singing in protest at California Hall to protest University of California at Berkeley (UC Berkeley) and its decision to use contract-based workers instead of full-time employees on the campus.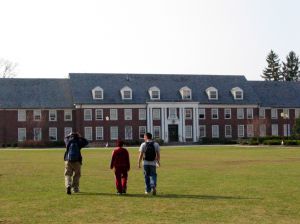 This group of demonstrators said the university was being "super cheap" in their hiring practices and called on the university to hire more union workers to fill those jobs. This group of protesters included both workers and students, and they went to the chancellor's office holding a cake that was decorated with the phrase, "I don't always pay fair wages, but when I do it's in Berkeley and Richmond." The group also sang songs they had written for the protest. They were asking for fair wages, decent healthcare, and for the university to hire employees instead of using more contractors.
As our Los Angeles employment attorneys can explain, when an employer decides to hire contractors, normally through some type of temporary employment agency, they do not have to pay benefits, healthcare, and they may not even have to pay overtime wages, though the temp agency may have to do this. They also do not have to give any reason or warning when they want to get rid of a worker, as they simply tell the temp agency to replace the worker in question with a new contract worker.
The company may see it as great opportunity to get the work done without having to pay benefits or do tax withholdings; but, in reality, this form of doing business may cost a company much more money and hardship in the long run. Studies have shown that temporary workers do not have any loyalty to the company and do not have any real motivation to do anything more than the minimum asked of them. This does not lead to a productive workforce. The company also has to spend money constantly training new workers because of the excessive turnover typically seen with contract-based workers. This not only costs many companies money in terms of retraining, but also results in reduced efficiency while new workers are getting up to speed.
During this demonstration at UC Berkeley, the protesters asked to speak with the chancellor or another administration official but were apparently told through a closed door that they would not be let in to speak with anyone at that time.
University officials did issue a statement, however, saying that by using both employees and contract workers, the school would be allowed to maximize efficiency with the limited resources they had available to them for school operations. This statement came via an open letter to the state legislators who were concerned about the demonstrations taking place on campus. It is interesting that so many students joined in the protest along with the workers and the labor unions, and perhaps this is what has caught the public attention.
It should be noted that university police were apparently called to the scene to make sure the protest was not getting out of hand. The protesters decided to leave the cake with a police captain on the scene, since they were not allowed into the office.
Contact the employment attorneys at Nassiri Law Group, practicing in Orange County, Riverside and Los Angeles. Call 949.375.4734.
Additional Resources:
Demonstrators sing in California Hall to protest UC Berkeley's use of contract workers, July 13, 2015, The Daily Californian
More Blog Entries:
EEOC Sues Restaurant for Discrimination Against Male Applicants, Feb. 5, 2015, Orange County Employment Lawyer Blog