A blog post written by a woman detailing sexual assault by her powerful boss in an upscale bar prompted fifteen women to come forward with their own stories – about the same man.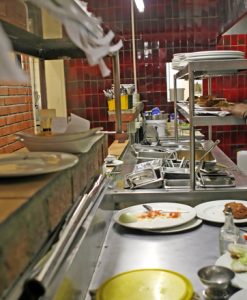 The blog, The Reality of Sexual Assault in the Cocktail Community, details in graphic, difficult-to-read accounts, their experiences of sexual harassment and sexual assault in the restaurant and bar industry. The homepage contains content wherein the original author explains she wants to start a dialogue about what happened, why none of them have gone public with these allegations and what can be done by women in similar situations today.
A large study conducted in 2014, The Glass Floor: Sexual Harassment in the Restaurant Industry, revealed there are more than 11 million workers in the restaurant industry, which is one of the largest and fastest-growing segments of the economy nationally. It is also the biggest source of sexual harassment complaints filed with the Equal Employment Opportunity Commission. Women are especially vulnerable in these roles, which are some of the most precarious from a financial standpoint. Approximately 70 percent of all servers are women and more than 60 percent of all tipped jobs are filled by females. 
Tipped workers are often paid as little as $2.13 hourly (which has been the federal minimum wage since way back in 1991), and there is a serious lack of enforcement to ensure workers' wages – with tips – at least amount to minimum wage. Because these workers are so reliant on tips, they often express they have no choice but to tolerate harassment and even abuse from customers. Meanwhile, customers feel entitled to behave inappropriately because they know this dynamic exists. Management is largely unresponsive to complaints (when they are actually made) because of the desire to keep customers happy. Some restaurants even require workers to flirt or dress in a suggestive manner.
Servers also routinely suffer sexual harassment from their co-workers and managers, who are in charge of setting the hours, shifts and sections. In fact, a majority of restaurant workers report having experienced sexual harassment.
Of course, acceptance or tolerance of sexual harassment is not the same thing as consent.
The study is based on survey responses from 700 industry workers. The survey found 66 percent of women in the restaurant industry and 58 percent of men reported being sexually harassed at work every month. Most of that was attributed to co-workers (74 percent among women), though about 60 percent of women said they were harassed monthly by customers.
A review of some 20 EEOC consent decrees from 15 states over a 10-year period revealed most of these cases included claims like:
Indecent exposure.
Lewd remarks or requests.
Touching.
Hugging.
Groping.
Grabbing.
Pressure for dates.
Unwanted sexual advances.
Other forms of assault.
In some cases, women were subjected to repeated exposure to pornographic images, simulated rapes and even being dragged into isolated areas kicking and screaming.
Before Andrew Pudzer withdrew from the nomination for Labor Secretary, it was noted that his restaurant franchises had a total of 39 labor law violations filed against them just in January – including four for sexual harassment. In one case, a female worker said her shift manager, after months of sexual harassment, threatened her with sexual violence. When she complained about it, she was moved to a less desirable shift. Another worker at one of Pudzer's franchises in California alleged she was harassed by a co-worker during the graveyard shift, and yet was repeatedly scheduled to work with him even after she reported the abuse.
Contact the employment attorneys at Nassiri Law Group, practicing in Orange County, Riverside and Los Angeles. Call 949.375.4734.
Additional Resources:
Keeping tabs: Sexual harassment in the service industry, Jan. 26, 2017, By Elizabeth Buelow, Street Root News
The Glass Floor: Sexual Harassment in the Restaurant Industry, Oct. 7, 2014, The Restaurant Opportunities Centers United Forward Together
More Blog Entries:
Sexual Harassment Allegations Against Fox News Host Bill O'Reilly Settled, Feb. 9, 2017, Sexual Harassment Lawyer Blog