Fox News announced it settled with former Anchor Gretchen Carlson – and a "handful" of other women – each of whom had filed lawsuits alleging former CEO Roger Ailes had sexually harassed them. Carlson alone received a $20 million payout.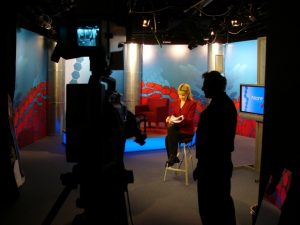 The station's parent company, 21st Century Fox, owned by Rupert Murdoch and his sons, was the one that paid the settlement. Employment law experts know that the size of Carlson's compensation is among the largest-known settlements issued for a single plaintiff in a sexual harassment lawsuit. We say "known" because many of these settlement agreements are confidential. In fact, at least two other women who were part of the sexual harassment investigation settled too, wishing to remain anonymous. Still, Ailes himself received a $40 million payout when he exited the company. He will not have to pay any of the $20 million settlement to Carlson or the other women, despite the fact that the lawsuits were originally against him personally.
Also rather unusual: 21st Century Fox issued an apology – a public one at that – to Carlson. She had filed the lawsuit over the summer, alleging Ailes removed her from the popular show and slashed her pay when she refused to have a sexual relationship with him. The apology statement conceded that Carlson was not treated with the respect and dignity she was owed. 
The entire ordeal sparked upheaval at the network, where the recently (and abruptly) departed Greta Van Susteren, a 14-year employee and former host of "On the Record," wrote in a public Facebook post that Fox had "not felt like home to me for a few years." Her husband and agent described the atmosphere as "chaotic" and indicated it was "very hard to work there." He hinted there could be litigation in the future for Van Susteren, but did not provide any further details.
Van Susteren was among the voices at Fox that initially condemned Carlson, calling her timing "suspicious." However, as it was later revealed Carlson had some pretty damning evidence. According to someone with knowledge of the settlement, Carlson had been recording her meetings with Ailes on her smartphone. In those discussions, there were at least six – arguably as many as 10 – in which Ailes made statements that could be construed as sexual harassment. Some of the lines she noted in her lawsuit came straight from those recordings, including one in which Ailes indicated they should have started a sexual relationship a long time ago because then they would both be "good and better."
Officials at the parent company for Fox learned about the recordings less than a month after Carlson filed her lawsuit. Since that time, about 20 women have come forward to allege inappropriate behavior and sexual harassment by Ailes. Settlement talks unsurprisingly started soon after that.
Although not every sexual harassment claim is as high-profile, it doesn't mean the stakes aren't high for those involved. In many cases, victims may fear retribution, being blacklisted in their industry and other negative consequences. Working with an experienced sexual harassment attorney can often help to work out a favorable settlement before you case ever nears the trial phase. Where a trial is necessary, our Orange County sexual harassment attorneys will be prepared to fight.
Contact the employment attorneys at Nassiri Law Group, practicing in Orange County, Riverside and Los Angeles. Call 949.375.4734.
Additional Resources:
Fox settles sexual harassment lawsuit for $20 million on Ailes' behalf, Sept. 6, 2016, By Daniel Wissner and Jessica Toonkel, Reuters
More Blog Entries:
Federal Lawsuit: Airline Violated Pilot's Rights in Denying Sick Leave for Active Military Duty, Sept. 6, 2016, Orange County Sexual Harassment Lawyer Blog