The board of education in a small city in New Jersey has paid $45,000 to settle a claim of racial discrimination that alleged a white woman was passed over time and again for assistant principal jobs that instead went to less qualified black workers.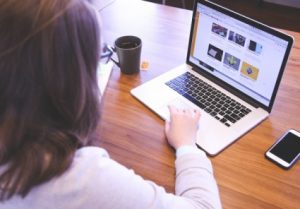 Such cases of "reverse discrimination" in the workplace are rare, but they can sometimes prevail. It will depend heavily on the circumstances.
Bear in mind too: The U.S. Supreme Court's decision in Fischer v. University of Texas did uphold affirmative action in the education system when a white student alleged the university used her racial identity as a white person as a mark against her to admit less qualified black and minority students. That was characterized as a gross oversimplification of the university's policy, which the court ruled did not violate plaintiff's Fourteenth Amendment guarantee of equal protection. 
Still, the Civil Rights Act of 1964 forbids employers from failing or refusing to hire or to discharge a worker to take any negative employment action against him or her on the basis of race, color, religion, sex or national origin. Some states – California included – have added sexual orientation or sexual identity. Strictly on this basis, it is possible for a white person to succeed in a racial discrimination lawsuit.
Title VII of the Civil Rights Act does extend protection to those of all races. That said, it would have to involve a situation where white employee is treated much differently than minority co-workers by a minority supervisor.
In the recent case out of Pleasantville, NJ, the settlement was reached in December, but not reported until more recently.
Plaintiff had worked for the school district since 1997. Six years into her post, she sought out an assistant principal post, but was turned down for the job was reportedly granted to a "less qualified" person who was also African American.
She then left the district to work for another as an assistant principal. However, she returned to the same city in 2007, once again applying for the assistant principal post. Once again, she was not given the job and once again, she claimed, it was given to someone who was less qualified and also African American.
The same thing occurred again numerous times – in the 2012/ 2013 school year, again in August 2013 and again in the summer of 2014.
It wasn't until around this time that she was informed by at least one other administrator that the district had a long-standing practice of reverse racial discrimination and that black employees were systematically promoted over white ones. Further, plaintiff alleges, her claims of racial discrimination were not take seriously or investigated by the district.
U.S. Census data shows about one-fourth of the city's population is white while 45 percent is black.
As part of the settlement agreement she ultimately reached with the school district, she was granted $45,000 in back pay as well as a job as an assistant principal.
Although the school district did not admit any wrong-doing in the case, that's fairly typical of civil settlements in employment litigation.
Contact the employment attorneys at Nassiri Law Group, practicing in Orange County, Riverside and Los Angeles. Call 949.375.4734.
Additional Resources:
White NJ teacher claims racial discrimination, gets $45K settlement and a promotion, July 6, 2016, By Louis C. Hochman, nj1015.com
More Blog Entries:
Nickel v. Staples – $16M Age Discrimination Verdict Upheld by California Court, July 8, 2016, Racial Discrimination Lawyer Blog