Healthcare workers, including nurses and home health aids, are one of the groups most at risk of getting hurt in the workplace as a result of violence. Workers within the healthcare profession typically face three times the risk of workplace injuries due to violence compared with the overall rate of such injuries in the private sector.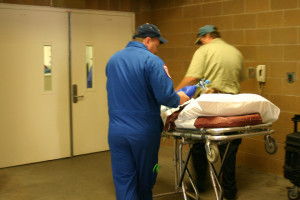 In light of concerns about their safety, nurses have been lobbying in California for a law which would provider better protections. Sacramento Bee reports that California is moving forward towards becoming the state with the most comprehensive protections for California healthcare workers in the United States.
New Protections from Workplace Violence for California's Healthcare Workers
Service Employees International Union (SEIU), which represents approximately 8,000 healthcare workers and nurses throughout Southern California, was instrumental in lobbying for action to establish regulations that would provide broader protection to healthcare workers.
In early 2014, SEIU members and other professional nursing advocates petitioned the California Division of Occupational Safety and Health (Cal/OSHA) to develop a comprehensive standard aimed at preventing workplace violence targeted towards healthcare workers. The aggressive lobbying was a response, in part, to the tragic death in 2010 of a psychiatric technician who was strangled to death at work in a California hospital by a mentally ill patient.
Cal/OSHA unanimously voted to accept the petition submitted by the nurses and to move forward with establishing a framework to provide protections. The proposed standard is called Workplace Violence Prevention in Health Care, and comments were accepted on the standard until December 17, 2015 at which time a public hearing was held so the rule could be officially adopted.
The Workplace Violence Prevention in Healthcare Standard joins two other rules protecting healthcare workers which Cal/OSHA enforces, including a standard setting forth rules for safely handling patients as well as a standard aimed at preventing healthcare workers from developing aerosol transmissible diseases. Together, the three standards enforced by CAL/OSHA provide the nation's most comprehensive framework for securing the safety of healthcare workers.
The new rule requires many different things of employers. For example, it requires employers to seek input of employees and to develop safety plans in conjunction with health workers. It imposes new training requirements so employers must offer more comprehensive training to healthcare workers on violence prevention. It also imposes requirements on employers to assess environmental factors in specific workplaces which exacerbate the risk of violence to health workers. While it may not be able to prevent all violent acts, it should go a long way towards reducing some of the biggest risks workers face.
Ultimately, employers are responsible for providing a safe environment to workers, not just in the healthcare field but in any profession. If an employer fails to live up to this obligation and workers are hurt, they have legal rights. Employers are also prohibited from taking retaliatory action against employees who report unsafe work conditions. If an employer is fired for making a report about safety issues, the employee may have a wrongful termination claim.
Contact the employment attorneys at Nassiri Law Group, practicing in Orange County, Riverside and Los Angeles. Call 949.375.4734.
More Blogs
Hillary Clinton to Crack Down on Worker Classification, July 18, 2015, Orange County Employment Lawyer Blog