A sexual harassment lawsuit has been filed against a national charity employment organization and one of its affiliates, alleging the two companies failed to protect the female janitorial staff from being routinely targeted for sexual harassment by a night shift supervisor.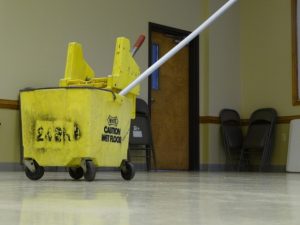 The lawsuit was filed on behalf of five workers who worked nights, most of whom were employed by the charity organization's contractor, which hired the workers through a federal contract to employ those with disabilities. The workers in this program suffered from severe physical, mental or psychological impairments, and were working through this federally-funded program to help them become financially independent. They were assigned to clean a federal building in Oakland, CA each evening.
The supervisor is accused of inappropriate touching and leering. He is alleged to have asked intrusive questions about the women's sex lives and made propositions to them. He once groped his genitals in front of the female janitors – and others – so often that federal building employees reportedly gave him a crude nickname. This fact alone shows that the behavior was known – or should have been known – by higher-ups. Despite this and repeated reports, the company didn't take any effective action to help protect these vulnerable workers, according to the complaint. 
The women say they repeatedly told their other supervisors about their boss's actions, but no action was taken to stop the harassment or to protect them from this hostile work environment. The harassing behavior reportedly started around 2009 and continued for three years, when the supervisor was blocked from entering the federal building by the U.S. General Services Administration finally as a result of the numerous volume of complaints against him.
But even then, the supervisor wasn't fired. He reportedly wasn't even disciplined, only transferred to a different location.
The U.S. Equal Employment Opportunity Commission (EEOC) filed the claim on behalf of the workers. The federal regulator, in the course of its investigation, also discovered that this boss was responsible for lying on mandated time sheets and he also reportedly rejected pay increases to the workers with disabilities based on their actual performance. This effectively resulted in the disabled employees being subjected to disparate terms and conditions of employment.
Additionally, the EEOC asserts, two other supervisors were wrongly disciplined as a form of retaliation when they came out in support of the janitors' sexual harassment claims. One of those managers said she was reprimanded and disciplined after assisting with the EEOC investigation. She was ultimately transferred to the night shift, which is seen as an unfavorable assignment. She later said she endured continued retaliation that resulted in a work environment that was abusive and oppressive and she had no choice but to resign, the EEOC said.
The other supervisor was reportedly subjected to unfair criticisms of his work and was disciplined for failing to carry out duties that weren't even part of his job description.
Essentially, this was a program set up to help workers who suffer from severe disabilities to help them attain some degree of independence. Instead, they were for years allegedly subjected to exploitation by a supervisor who asserted his power over them and took advantage of the fact that they were isolated on that night shift.
Contact the employment attorneys at Nassiri Law Group, practicing in Orange County, Riverside and Los Angeles. Call 949.375.4734.
Additional Resources:
Goodwill Affiliate Sued By EEOC for Sexual Harassment, Disability Discrimination and Retaliation, Dec. 13, 2017, EEOC
More Blog Entries:
Sexual Harassment by Customer Results in $250k Damage Award to Costco Worker, Jan. 19, 2017, Sexual Harassment Lawyer Blog