A construction worker in Oregon has filed an employment lawsuit alleging religious discrimination and retaliation after he was fired for refusing to attend a mandatory weekly Christian Bible study.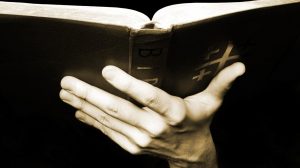 The 34-year-old Native American said he expressed to his boss/ the business owner discomfort about going to the Bible study and even indicated it was probably illegal, but was told it was a condition of employment for which he would be paid. Although he still wasn't comfortable with it, as a convicted felony, he badly needed the job and didn't want to lose it. So he attended the once-weekly hour-long session, conducted by a Christian pastor. He did this for several months, but then finally said he could no longer stomach it and stopped going. He was fired soon thereafter.
In filing his religious discrimination employment lawsuit, plaintiff's attorney said the case is clear-cut: A non-religious employer can't require employees to go to a Bible study – paid or otherwise. It can be offered as a voluntary option, but it can't be mandated as a condition of employment and employers can't retaliate against workers who choose not to go. The attorney representing defendant business owner, meanwhile, asserts the requirement was not unlawful for at-will employees who were paid to go and it was considered part of their job. Further, defense attorney insists plaintiff wasn't fired, but rather was an on-call employee who simply found other work while he was still on-call for the defendant. 
These Bible study meetings were reportedly intended to help workers remain clean, as many were felons and individuals recovering from substance abuse addiction. The goal was to motivate them to stay the course and maintain their recovery. The owner says his personal history with drugs, alcohol and crime motivated him to be a "second-chance employer," openly hiring convicted felons and recovering drug addicts – one committed to helping them find the same kind of faith he did to keep him going.
But as out Orange County religious discrimination employment attorneys can explain, the EEOC spells out federal law on this very clearly: Religious discrimination involves treating an applicant or employee unfavorably due to his or her religious beliefs. This includes not just the "traditional" organized religious, but also others who have a sincerely-held religious, ethical or moral belief. Further, the EEOC expressly states: "An employee cannot be forced to participate (or not participate) in a religious activity as a condition of employment."
Plaintiff is seeking $800,000 in damages – $50,000 in lost income and $750,000 in non-economic losses, such as mental stress, humiliation, inconvenience and loss of life enjoyment. He alleges the employer's actions were in violation of state and/ or federal law, rule or regulation. Further, plaintiff insisted he acted in good faith by reporting the unfair/ unlawful condition and that the employee's protected activity was a substantial and motivating factor for defendant's retaliatory actions and decisions – including but not limited to his termination.
Even religious workplaces may not be immune from claims of religious discrimination in employment. Just last month, the Connecticut Supreme Court ruled unanimously that private religious institutions are not immune from lawsuits like discrimination. That decision pertained to a case wherein an unmarried teaching assistant requested maternity leave. The Christian school argued state law gives it the right to hire and fire employees who have direct contact with students and are spreading the word of the religion who do not uphold its tenants. The court held there is nothing in the language of the state's employment discrimination act that could be reasonably construed as conferring immunity in such a case.
Contact the employment attorneys at Nassiri Law Group, practicing in Orange County, Riverside and Los Angeles. Call 949.375.4734.
Additional Resources:
Construction Worker Sues Company, Says He Was Fired For Not Attending Bible Study, Aug. 30, 2018, By Sasha Ingber, NPR
More Blog Entries:
What About the Religious Rights of Teachers?, July 2, 2018, Orange County Religious Discrimination Attorney Blog