A number of high-profile disability discrimination lawsuits across the country are an important reminder of the fact that although we have made a great deal of progress in this arena, we still have a far way to go.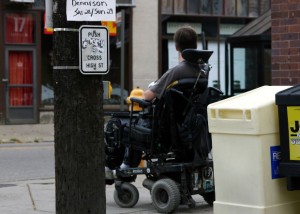 Here in California, the Fair Employment Housing Act, enforced by the state's Department of Fair Employment and Housing, bars employment discrimination on the basis of a person's disability or even a perceived disability.
There are also requirements that hold employers to an expectation that they will reasonably act to accommodate workers with physical or mental disabilities and illnesses such as HIV/AIDS and cancer.  In those cases where an employer fails to do this, the burden of proof is on the employer to show why doing so would cause an undue hardship.
There are also federal guidelines that apply in these cases.
One that has garnered its share of headlines over the last few months is a disability discrimination case out of Indiana. There, national chain Dollar General Store has been ordered to pay nearly $50,000 after it allegedly failed to accommodate an employee who suffered from dyslexia.
According to the U.S. Equal Employment Opportunity Commission, the worker was required to take a number of computer-based training courses, which were to be followed up with a written test. The worker requested assistance in reading the test because of his learning disability. However, his boss denied his request. His boss further told him if he couldn't take the test without help, he could expect a demotion. In the end, that's what he got. He was reduced to a lesser-paid position where he also received fewer hours.
It wasn't until after the lawsuit was filed that the company conceded the supervisor had not acted correctly. According to media reports, $40,000 of the settlement will go directly back tot he employee for back-pay damages. Further, the company agreed to supply its store managers with further training as it pertains to employees with disabilities.
Another case, recently filed by the EEOC, stems from a visually-impaired oil well worker from Texas. Hired as a quality inspector, the worker notified his bosses shortly after he started that he had a medical issue with his eyes that required him to wear darkly tinted glasses in order to reduce the strain on the ocular muscles. The company reportedly fired him soon after. His case is slated for a jury trial sometime next year.
In Florida, a former hospital nurse has filed suit, alleging that her employer denied her reasonable request to accommodate her disability by reassigning her to a vacant position for which she was qualified and then later firing her.
After having worked as a psychiatric unit nurse for more than two decades, she began requiring the use of a cane to walk. This went on for two years without issue until the hospital supervisors told her she could no longer use it because it was potentially unsafe and could be used as a weapon. Rather than offer her other positions for which she was qualified and could have used her cane, the hospital fired her a month later. A trial date in that case is still pending.
And lastly, here in California, in Vallejo, an ironic twist was revealed when a disability service provider refused to hire an applicant because of her partial hand paralysis. She was recommended to a position as an instructor by one of the workers at the firm. She did well in interviews and was ultimately offered the job. However, the officer was later rescinded when the company learned of the partial hand paralysis.
Last month, the company announced it would pay $130,000 to settle the claim.
Costa Mesa employment lawsuits can be filed with the help of the Nassiri Law Group, practicing in Orange County, Riverside and Los Angeles. Call 949.375.4734.
Additional Resources:
Dollar General Stores to Pay $47,000 to Settle EEOC Disability Discrimination Lawsuit, Oct. 23, 2013, Press Release, EEOC
More Blog Entries:
Proving Age Discrimination in the California Workplace, Oct. 22, 2013, Costa Mesa Disability Discrimination Lawyer Blog