A high-profile federal lawsuit alleges Harvard discrimination against Asian Americans students may allow an opening for a conservative-leaning U.S. Supreme Court to strike down affirmative action. The legal strategist who filed the lawsuit on behalf of those students oversees a group that is expressly anti-affirmative action. On behalf of the students, he asserts the Ivy League schools discriminate against Asian American students by capping the number of admissions of these students (which may include those who are Native Hawaiian and Pacific Islander).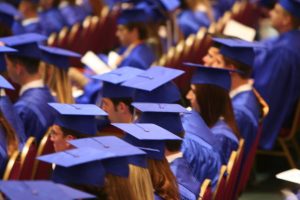 Proponents of affirmative action policies say race-conscious admission and hiring is necessary for all students of color – including Asian Americans – in order to fight back against long-held inequality in higher education and the job market.
Plaintiffs are alleging that the so-called "model minority myth," which holds Asian Americans to be overwhelmingly successful, both in academics and professionally, is harming them in this instance and beyond. They argue that Asian American students do have overall better academic performances, but are rejected for the purpose of racial balancing by the school in order to admit black, white and Latina/ Latino students who are less qualified. Furthermore, not all Asian Americans fit this "model minority" stereotype, which obscures the fact that there are very low graduation rates among some ethnic subgroups of Asian Americans, including those who identify as Vietnamese, Hmong, Bhutanese, Bangladeshi, Burmese, Filipino, Southeast Asians and Cambodian Americans. Meanwhile, Chinese, Taiwanese and Korean Americans enroll and graduate at much higher rates.
California, as our workplace racial discrimination attorneys can explain, has banned race-conscious admissions and policies, though the Center for American Progress argues that contrary to the model minority myth, Asian Americans actually do benefit from affirmative action.
The New York Times reports Asian American applicants are consistently scored lower on personality-positive traits, such as kindness, widely-respected, courage and likability. These personality ratings ultimately ended up dragging down their admissions rate by a significant degree, according to the lawsuit. Harvard allegedly conducted its own internal investigation into admission policies at the school, discovering an implicit bias against applicants who are Asian American but failing to make those findings public or act upon them.
Harvard is one of the most selective colleges in the country, and admits fewer than 5 percent of those who apply. This means there is great interest with regard to its admissions process, and as the lawsuit has progressed, the school has fought vigorously to keep documents obtained in the course of this lawsuit secret. As for the personality tests, these were ultimately unsealed. While plaintiffs in the case argued this is the same kind of systemic racism that the school used to justify Jewish applicant quotas in the 1920s and 1930s, the school countered there is no discrimination and further seeking diversity is a valid part of student selection, as underscored in the U.S. Supreme Court ruling of Fisher v. the University of Texas at Austin. The school further noted the fact that the rate of Asian-American admissions there had grown by one-third in the last 10 years.
Both sides are seeking summary judgment, which would result in an immediate ruling in their favor. Denial of those requests by the judge (which is likely) would mean the racial discrimination trial could be held as early as October.
Contact the employment attorneys at Nassiri Law Group, practicing in Orange County, Riverside and Los Angeles. Call 949.375.4734.
Additional Resources:
Harvard Rated Asian-American Applicants Lower on Personality Traits, Suit Says, June 15, 2018, By Anemona Hartocollis, The New York Times
More Blog Entries:
California Racial Discrimination Lawsuit Win Against Airplane Manufacturer, Others Pending, Aug. 24, 2018, California Race Discrimination Lawyer Blog