The coronavirus pandemic forced schools and businesses across the country to close, though education and work continued remotely where possible. That left a significant number of parents juggling the responsibilities of being an employee, as well as their child's caretaker/teacher. Most companies recognized that with schools and day cares closed, they'd have to be flexible in understanding that employees may not be able to devote 100 percent of their attention to work during work hours. However, some of that understanding is waning. For example, Florida State University released communication indicating that beginning next month, the university will no longer allow workers to care for their children while they're working remotely – an announcement made while COVID-19 cases in that state spiked five-fold.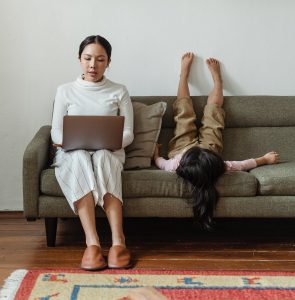 Meanwhile in Pennsylvania, a single mom with an 11-year-old son has filed an employment lawsuit after she was reportedly fired after being denied a request to flex two hours daily so she could focus on her son during the work day. The Washington Post reports the airline revenue management director was given the option of either taking leave or resigning. When she asked about the workplace protections available under the Families First Coronavirus Response Act, her supervisor reportedly told her he was "well aware of the various new laws that you've had time to look up while at home." Days later, she was fired, allegedly under the pretext of having a conflict with other workers, something she denies.
As our Orange County wrongful termination attorneys understand it, that is believed to be one of the first employment lawsuits filed under the FFCRA, the goal of which was to expand paid sick leave and family medical leave. Yet it's probably a sign of things to come as working parents (mothers especially) try juggle employment responsibilities and family obligations. Some employment law attorneys anticipate an uptick in coronavirus-related litigation, once the courts are back in full swing, particularly among workers who have reportedly been denied leave or paid time off to manage child care.
Unfortunately, parents are not a protected class under federal, anti-discrimination law. However, some federal courts have ruled that there can be a connection between family caregiver duties and gender discrimination. Employment law attorneys reviewing these cases are going to want to carefully review the gender demographics of any adverse employment action. For example, if layoffs adversely impact a disproportionate number of mothers, that's something that could warrant a closer look.
Workers may fear complaining when so many others are filing for unemployment, but employers are not allowed to exploit the situation or flout the law, and they have a responsibility to make sure they understand it before denying leave requests.
Many workers – parents and mothers especially – are likely to be confronting all the bias associated with caregiver responsibilities. It's possible this could result in legal action. Our law firm remains available to consult with clients and potential clients remotely, either over the phone or through video conferencing.
Know that if you work at a company with fewer than 500 employees, you're entitled to up to 12 weeks of paid sick leave and expanded family/medical leave at 2/3 your regular pay under the FFCRA. A company with fewer than 50 employees, however, may qualify for an exemption.
Our law firm can help you examine your legal options.
Contact the employment attorneys at Nassiri Law Group, practicing in Orange County, Riverside and Los Angeles. Call 949-375-4734.
Additional Resources:
'Motherhood Penalty' May Fuel Workplace Lawsuits in Pandemic (1), April 29, 2020, By Erin Mulvaney, Bloomberg Law
More Blog Entries:
$2.8 Million California Pregnancy Discrimination Settlement Reached, July 2, 2020, Orange County Wrongful Termination Lawyer Blog