This fall, the U.S. Supreme Court is slated to hear oral arguments in three cases alleging LGBTQ workplace discrimination. In an amicus brief (documents filed in appellate matters by non-litigants – or amicus curiae – with a strong interest in the stakes), some of the biggest U.S. companies urged the court to rule that federal civil rights law protects lesbian, gay, bisexual, transgender and queer/questioning workers.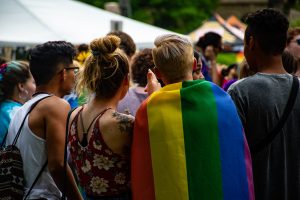 In their brief, more than 200 companies in all argued that their own corporate anti-discrimination policies cannot serve as an adequate substitute to the law. It is the position of these companies – among them Amazon, Bank of America, Microsoft, Starbucks and Walt Disney – that LGBTQ workers have inherent protections under existing federal rights law.
Most argue this in the context of gender discrimination, but the problem is is no express terminology from the legislature opining these rights exist in U.S. law. That has resulted in courts in different jurisdictions reaching inconsistent conclusions.
Corporations: State LGBTQ Worker Protections Insufficient
Some states – like California – do have laws that expressly provide protection through statute. However, that's not efficient, especially for large corporations where workers might have some state-to-state mobility.
In total there are three cases going before the U.S. Supreme Court. They originate from Michigan, New York and Georgia. The federal appeals courts handling those cases – based in Chicago, New York and Cincinnati – each ruled in favor of the workers, one gay, one lesbian and one transgender.
Employers in those cases have appealed, arguing the law does not provide for such protections.
Although corporations definitely hold sway in the court, Los Angeles LGBTQ discrimination lawyers know there is no guarantee this will play out in favor of the workers, particularly given the court's new conservative majority, thanks to the appointments of justices Neil Gorsuch and Brett Kavanaugh.
The fact that these businesses have come out in protection of the workers is notable, as large corporations tend almost always to to side on behalf of business interests in employment law disputes. However, it seems an increasing number might recognize that fairness for LGBTQ workers IS ultimately in the best interests of business and commerce.
Federal Government Stance Reversed From Obama to Trump
Under the Obama administration, it had been the federal government's stance that workplace discrimination against LGBTQ workers should be handled just like any other gender discrimination claim. However, the Trump administration has taken a different stance, arguing the Civil Rights Act of 1964 does not provide any explicit or implied protection to either gay or transgender employees.
The companies that have signed off on this friend-of-the-court brief represent a significant economic sector – some $5 trillion in yearly revenue plus 7 million workers.
Those arguing in favor of making this a subset of gender discrimination claims have asserted in court that claims pertaining to an employee's sexual identity or preference is driven at least to some extent by the employee's gender.
These cases, they assert, should be handled according to either civil rights law or Title VI.
Contact the employment attorneys at Nassiri Law Group, practicing in Orange County, Riverside and Los Angeles. Call 949.375.4734.
Additional Resources:
Big business urges Supreme Court to protect LGBTQ rights, July 2, 2019, Associated Press