New protections are now in place for workers who are pregnant or nursing. These federal protections were signed into law as the Pregnant Workers Fairness Act (PWFA) and the Providing Urgent Maternal Protections for Nursing Mothers Act (PUMP Act). As our Los Angeles employment attorneys can explain, these statutes expand previously-established federal laws that protect both pregnant and nursing employees.
Let's start with the PWFA, which technically goes into effect in June 2023. The law says that employers with 15+ employees must provide reasonable accommodations to qualified workers/applicants who have temporary physical and/or mental limitations as a result of conditions like pregnancy or childbirth.
As our Los Angeles pregnancy discrimination lawyers can explain, existing federal law does not consider pregnancy a "disability" that entitles a worker to reasonable accommodations. Employers are only required to extend reasonable accommodations for pregnancy, childbirth, or related conditions when similar accommodations are extended to other workers too. The PWFA changes that.
An employee is deemed "qualified" under the PWFA if they have the ability to perform the core functions of the job with those reasonable accommodations. Even if they can't form a key function of the job for a temporary period of time due to pregnancy, childbirth, or related condition, they may still be qualified if they'll be able to perform it at some point in the near future AND their current inability to do so isn't an undue hardship on the employer (similar to the Americans With Disabilities Act).
Also similar to the ADA is the fact that the PWFA compels an interactive process of good faith between all parties in order to identify which accommodations are "reasonable" given the job and the company. Employers aren't allowed to require workers to take-it-or-leave-it with an accommodation that wasn't agreed to as a result of that good faith interactive process. Employers also can't force workers to take leave (paid or unpaid) if some other reasonable accommodation is possible. Asking for a reasonable accommodation on this basis is not a lawful basis for employer retaliation.
Some examples of what may be considered a "reasonable accommodation" under the new law:
Increasing bathroom breaks.
Lowering the weight lifting requirements.
Extending leave to a worker who may not qualify for it under the Family and Medical Leave Act (usually due to the size of the organization or the amount of time the worker has been there). This might also apply to time needed for doctor appointments.
Providing additional/special office equipment, such as a stool for an employee who typically stands.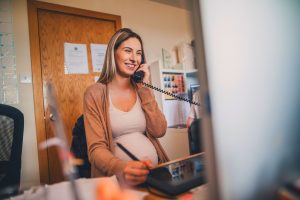 The second substantive federal law going into effect that furthers the protection of people who are nursing infants and small children is the PUMP Act. Signed into law by President Joe Biden in December 2022, the Pump Act is intended to benefit the millions of breastfeeding people who work and yet are not provided break time or space to pump/express milk during their workday. It's estimated 83 percent of infants in the U.S. are breastfed at some point. Not providing workplace accommodations to nursing caregivers impacts not only the parent, but the infant too.
In 2010, Congress passed the Break Time for Nursing Mothers Act as part of the Affordable Care Act. This provision allowed for both a reasonable amount of break time as well as a private place (not a bathroom) in order to facilitate pumping for up to one year after birth. However, millions of breastfeeding people were not covered under the previous law. Thanks to an unintended loophole, workers who weren't eligible for overtime pay were also excluded from the breastfeeding break time protections. In effect, a quarter of workers of childbearing age and ability were excluded. Among these: Transportation workers, registered nurses, teachers, computer programmers, agricultural workers, journalists and photojournalists, doctors, lawyers, and more (depending on their salaries and job duties). The PUMP Act now includes these workers too.
The law allows violations to be met with immediate litigation action – something that's important given that three-quarters of breastfeeding discrimination cases result in economic harm – including job loss in the form of firing or forced resignation.
Although the law has been in effect since December 2022, the provision allowing for enforcement doesn't go into effect until April 28, 2023.
If you have questions or feel you have been discriminated against at work for pregnancy, childbirth, breastfeeding, or a related issue, we can help.
Contact the employment attorneys at Nassiri Law Group, practicing in Newport Beach, Riverside and Los Angeles. Call 714-937-2020.
Additional Resources:
What You Should Know About the Pregnant Workers Fairness Act, EEOC