Gender discrimination and sexual harassment attorneys in California know women who work in federal prisons housing male inmates tend to go into the job expecting they will be targeted for unwanted attention from the resident populace. This isn't to say such behavior is tolerable, but it's the reason these workers wear over-sized uniforms, slick their hair into tight buns, do almost everything possible to hide any trace of femininity. But worse than abuse they face from the inmates, they told The New York Times and detailed in gender discrimination lawsuit depositions, is the fact their male colleagues encourage this behavior – and even participate in it. On more than one occasion, this has resulted not only in a hostile workplace, but an extremely dangerous one. Further, they allege that when these incidents are reported, they face retaliation, including blackballing and termination, the male colleagues who harass them reportedly rise in their field.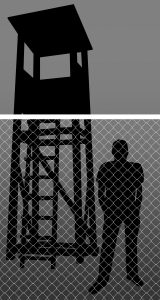 Our Los Angeles sexual harassment attorneys are aware of cases wherein female prison workers have been groped, taunted daily, subjected to incessant inmate masturbation and threatened with rape. Anytime they reported this, the women say, their supervisors downplayed it, encouraged them to "let it go." Once when a female worker refused, she said her supervisors required her to undergo an unwanted medical exam that required her to expose her breasts in front of a colleague. In another case, a case manager was reportedly raped by an inmate. When the 24-year employee reported it, she was criminally charged with raping her attacker. She was later acquitted by a jury, but her retirement savings was depleted for her defense fund and her daughter had to drop out of college because she couldn't afford it.
This isn't the first time abuses of female prison employees have come to light. In 2010, the Equal Employment Opportunity Commission released a stunning report, indicating sexual harassment and retaliation claims were not only unusually high within the U.S. Bureau of Prisons, but also that they were routinely mishandled. And this is not a small problem, given that more than 10,000 women work within the federal prison system. Women who have lodged complaints say they have been essentially blocked from any future in the corrections system – even when their claims prevail. This is evidenced by the fact that a Congressional oversight committee last year learned that prisons were continuing to grant high-level administrators huge bonuses, even though the complaints regarding sexual harassment were pervasive, the handling of them clearly unlawful.
It should be noted that federal employees are protected from discrimination based on their race, religion, color, gender, gender identity, pregnancy, sexual orientation, national origin, age (if over 40), disability or genetic information. Los Angeles sexual harassment attorneys can also explain these workers are protected from retaliation for opposing employment discrimination, filing a complaint regarding it or participating in any EEOC process.
Last year, the federal bureau agreed to a $20 million settlement for the harassment and retaliation female workers sustained at a federal corrections facility in central Florida. The employees say they complained repeatedly about sexual harassment and threats from inmates, and in return were mocked by supervisors. Disciplinary citations written by female corrections officers against these inmates were promptly shredded, while punishments for the inmates were reduced. In one instance, a female secretary at the prison in Victorville asked to be released from a confined ward after she'd completed her task, only to find herself alone, locked in a hallway, with inmates' faces pressed against the glass all down the hallway. The officer allegedly told her the inmates needed to "finish" pleasuring themselves so they would behave at lunchtime (i.e., refrain from throwing bodily fluids through the food slots on their doors), according to the Times. This practice is reportedly used as a "reward" for good inmate behavior, the women allege.
The women note that in rural areas, where most prisons are located, these positions are often the only job with a regular paycheck in town. Many women are supporting their families, and don't feel they have much choice.
Our dedicated sexual harassment attorneys in Los Angeles are committed to fighting for the rights of female prison workers who put their lives on the line just as much – if not more sometimes – than male colleagues, only to be treated as less than equal by those with whom they serve alongside.
Contact the employment attorneys at Nassiri Law Group, practicing in Orange County, Riverside and Los Angeles. Call 949.375.4734.
Additional Resources:
Hazing, Humiliation, Terror: Working While Female in Federal Prison, Nov. 17, 2018, By Caitlin Dickerson, The New York Times
More Blog Entries:
Nike Gender Discrimination Lawsuit Alleges Hostile Workplace for Women, Sept. 7, 2018, Los Angeles Sexual Harassment Attorney Blog