This summer, the National Park Service celebrated 100 years since its founding. In that time, it's helped to protect more than 84 million acres of environmental treasures and welcomes 300 million visitors to its sites annually.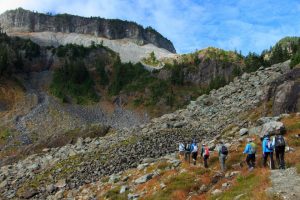 But a report that was released this year following the Department of Interior's Office of Inspector General (IG) released a report following a two-year investigation followed complaints filed by more than a dozen former and current female park service employees who alleged discrimination, retaliation and a sexually-hostile work environment over the course of 15 years in the River District of the Grand Canyon. That report showed that in addition to the 13 women who actually filed complaints, there were 22 others who had been suffering from workplace harassment. Then in late September, the Committee on Oversight and Government Reform reviewed that investigation – and a number of others from the IG on other parks – and determined the park service was responsible for a pattern of sexual misconduct and sexual harassment that spanned decades.
Of course, the park service isn't alone in creating this kind of environment. One recent survey by Comparably found that 24 percent of women reported being sexually harassed at work. Another survey by Cosmopolitan magazine indicated 1 in 3 women is sexually harassed at work. 
At the park service, one of the most vocal complainants was a woman who said she'd suffered harassment repeatedly over the course of her more than three decades working as the chief of fire management and aviation at Yosemite. In 1987, she reported being stalked and spied on by another ranger while showering. Her superiors were not sympathetic and she ultimately dropped it without filing a formal complaint. Another co-worker cornered her in her office and tried to kiss her. In another case, a colleague took photos of her and kept them on the sun visor of his government-issued car.Another time, at a work meeting held in a private home, her supervisor ran his fingers through her hair. In each case, she was told, "It's your word against his."
She finally reasoned if she was going to continue working in the parks' service, she would simply "have to live with it."
Similar stories were reported in park after park after park, all across the country. The committee ultimately determined that this kind of misconduct is either not addressed or it's covered up or it's condoned. Guilty parties are promoted and/or retire with full benefits.
In light of the report, the park service has been making some changes. For example, it implemented the mandatory training for supervisors. A new supervisor – a woman – was appointed to the Grand Canyon. That area's most problematic station, the River District, was shuttered.
Still, one wonders whether that's truly enough, particularly when we consider that in 2000, when parks' employees were queried about sexual harassment, more than 75 percent of female employees answered, "Yes."
Similar problems have been noted in numerous other federal agencies, including the U.S. Fire Service's California division. A class action lawsuit was filed in 2014 from former female workers there who report sexual harassment, gender discrimination and retaliatoin from male workers.
Parks officials have promised to bolster their policies, but as some legislators in the Oversight Committee noted, policy changes aren't enough.
"You need handcuffs and a trip to the sex offender registry."
Contact the employment attorneys at Nassiri Law Group, practicing in Orange County, Riverside and Los Angeles. Call 949.375.4734.
Additional Resources:
These Stories of Sexual Harassment at Our National Parks Will Make Your Skin Crawl, Oct. 31, 2016, By Erica Langston, Mother Jones
More Blog Entries:
New California Labor Law Targets Sexual Harassment, Assault in Janitorial Industry, Nov. 3, 2016, L.A. Sexual Harassment Lawyer Blog