A black, transgender man is accusing GE (General Electric) of discrimination, sexual harassment and retaliation after he was reportedly fired from his job of two years. He cites the treatment he received prior to his supervisors learning that he was transgender versus after. The complainant alleges in an employment lawsuit the company violated not only federal and state laws, but also a city ordinance that prohibits workplace discrimination.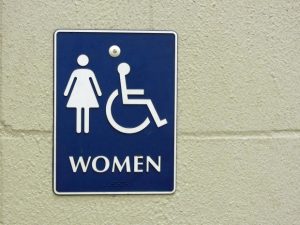 While the company insists plaintiff was fired for repeated tardiness, plaintiff says there is a good reason for that. He said rather than allowing him to use the male bathroom near his work station, he was forced to use a bathroom that was much farther, on the other side of the property. Then when he returned, he would be reprimanded for returning late from his breaks.
The worker was employed on the production line at the company. On one occasion, he was pulled off the line to meet with a supervisor. It was during that meeting that he revealed he was transgender. From that point forward, he says, he was singled out repeatedly and go additional reprimands for alleged offenses that co-workers were not called out for.
Company supervisors at one point informed him he would be required to use the restroom at the far front end of the building. Although he would sometimes use the women's restroom, which was closer, there were internal complaints about it, so he more often than not went to the men's restroom that was farthest away, to avoid any further complaint or harassment. He complained about this treatment to his union representative, but said he received no assistance.
On the day of his actual firing, his supervisor reportedly told him he had poor attendance. However, he said the attendance issue was solely related to his being forced to take extended restroom breaks so he could travel to the other side of the building.
Where this case was filed, in Louisville, the city has a specific ordinance prohibiting companies from discrimination of employees on the basis of gender, gender identity or sexual orientation. There is no such federal law, but many states – including California – and cities have such protections in place. The Occupational Safety & Health Administration (OSHA) has asserted that employees should be allowed to work in a manner consistent with how they live their lives with regard to their gender identity. That didn't happen here, he says.
This isn't the first time GE has been accused of this kind of conduct. Back in 2007, a female attorney for GE was demoted and later filed a $500 million gender discrimination lawsuit against the company. She alleged entry-level female workers in the company were paid substantially less money than their male counterparts. Additionally, female executives were not promoted at a comparable rate to their male counterparts. Plaintiff in Schaefer v. General Electric Company, et al., attained class action status and ultimately settled for an undisclosed sum.
If you have been a victim of gender discrimination or believe your employer has retaliated against you for engaging in protected activity (such as making a complaint regarding discrimination), we can help.
Contact the employment attorneys at Nassiri Law Group, practicing in Orange County, Riverside and Los Angeles. Call 949.375.4734.
Additional Resources:
Fired GE worker sues over LGBT discrimination, Aug. 26, 2016, By Grace Schneider, Courier-Journal
More Blog Entries:
Employment Lawsuit: Illegal Firing for Refusal to be Scientologist, May 3, 2016, Costa Mesa Gender Discrimination Lawyer Blog