A former employee alleges Amazon's pregnancy discrimination against her and failure to provide accommodations led her to suffer a miscarriage.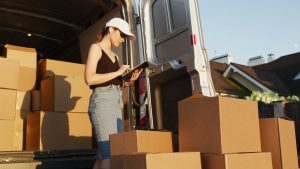 According to Vice, the packer was 7 weeks pregnant when she suffered a miscarriage at the fulfillment center where she worked. In the weeks prior, she said she'd begged her warehouse manager and human resource office for lighter duty. She provided a doctor's note requesting pregnancy accommodations, which indicated she was not to lift, push, pull or carry more than 20 pounds. She was also not to walk or stand for more than half of her shift. Her job involved loading packages onto delivery trucks. The bins she was responsible for lifting could be up to 50 pounds, repeatedly, over a 10-hour shift.
The worker said that when she provided the doctor's note, she was told verbally that there were no specific areas for light work that wouldn't require 15 pounds or more of lifting or for her not to be on her feet. Subsequently, her manager began repeatedly questioning why she was sitting, taking longer bathroom breaks and moving more slowly.
The U.S. Centers for Disease Control and Prevention note that the risk of miscarriage can increase when workers routinely engage in heavy lifting, standing on their feet for long hours and bending at the waist. Plaintiff said her manager was not accommodating of any of this. Although workers are only allowed 10 minutes of "time off task" daily, the size of the warehouse means it takes six minutes just to talk to the bathroom and back. It would be virtually impossible to take more than one bathroom break daily with those kind of restrictions.
The worker was quoted as saying that she was during a bathroom break on the clock that she realized she was bleeding. She immediately told her manager she was having a medical emergency and possibly miscarrying. She went home, asked for medical leave and was denied. She was denied a request for leave under the Family and Medical Leave Act, which was denied because she hadn't worked at the facility long enough – 841 hours in the previous 12 months versus the 1,250 hours required to obtain FMLA.
During the two weeks that she stayed home to rest after discovering the bleeding, she said Amazon failed to respond to two requests for medical leave absence and California Pregnancy Disability. She'd run out of personal time off by that point, so she resigned. A week later at a doctor's appointment, the doctor could no longer detect a heartbeat.
A spokesperson for Amazon said the company is investigating the allegation, and added they "gladly offer support and medical accommodations" to thousands of workers daily.
As our Los Angeles pregnancy discrimination lawyers know, Amazon is one of several larger companies that has a poor track record of delaying and denying disability accommodations, including pregnant warehouse workers seeking lighter duties an more frequent bathroom breaks. The company has an employee turnover rate of about 150 percent annually, and it's had at least seven pregnancy discrimination lawsuits filed against it from 2011 to 2019. In an Oklahoma warehouse, failure to accommodate a handful of pregnant employees reportedly forced workers to risk homelessness, eviction and miscarriage.
Most of the 10 to 15 percent of pregnancies that end in miscarriage do so within the first trimester, as was the case here. It may be challenging in this case to prove causation
Approximately, 10 to 15 percent of pregnancies end in miscarriage, according to a 2013 study in the American Journal of Epidemiology. The majority of those miscarriages occur in the first trimester. Establishing causation in a case like this may be somewhat challenging without expert witness testimony. Anyone who believes they have been discriminated against on the basis of their pregnancy in California should speak with an experienced employment law attorney to examine your options.
Contact the employment attorneys at Nassiri Law Group, practicing in Newport Beach, Riverside and Los Angeles. Call 714-937-2020.
Additional Resources:
Amazon Denied a Worker Pregnancy Accommodations. Then She Miscarried. July 20, 2021, By Lauren Kaori Gurley, Vice.com