When Title VII passed in 1964, it banned gender discrimination at work. However, it wasn't until 1975 that activists at Cornell University coined the phrase, "sexual harassment." And still, it wasn't until around the early 1990s, when law professor Anita Hill accused Supreme Court Justice nominee Clarence Thomas of sexually harassing her when they worked together. That didn't stop Thomas' nomination from being confirmed, but that same year, the Civil Rights Act was amended to allow victims in those cases to seek both compensatory and punitive damages. The number of sexual harassment cases skyrocketed.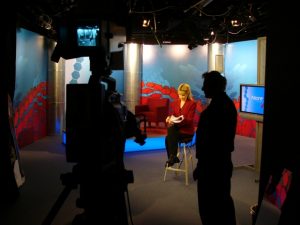 Twenty-six years later, allegations of sexual harassment brought down one of the most powerful men in cable news – Bill O'Reilly. Of course, it took years and numerous allegations from many women.
But even before then, in late 2016, Anita Hill spoke out to CBS News, in response to the infamous Access Hollywood Trump tape, Hill said women have been saying for decades that sexual harassment is real and it is a problem. The revelation didn't stop Trump from being elected. However, the incident did spur a national discussion. Then there was Roger Ailes, the former Fox chairman who was ousted amid numerous allegations of sexual harassment from high-profile female anchors and staffers. When the latest allegation arose against Bill O'Reilly, advocates say it brought sexual harassment "to the tipping point of public attention."
A CBS News poll conducted last fall revealed nearly 80 percent of women and 70 percent of men believe sexual harassment happens at work. However, only about 35 percent of victims ever report such incidents to their supervisors. Most women don't report it, said the president of the National Women's Law Center, because they fear they will not be believed.
So even though the Equal Employment Opportunity Office reports some 36,000 people across the U.S. have filed federal complaints for sexual harassment over the last three years, resulting in more than $100 million in out-of-court settlements, the issue is still largely believed to be under-reported.
Our L.A. sexual harassment lawyers know that one benefit of increased awareness is that companies may be less inclined to cover up for those perpetuating the harassment. Or, they may be more likely to agree to a settlement.
Still, for alleged harassers in high positions of power, it may take a little more push. With O'Reilly, for example, it wasn't until The New York Times released a story April 1st revealing how Fox News and its parent company had repeatedly stood by the show host, even as it settled five separate sexual harassment cases against him, each involving women who complained he sexually harassed them. In total, the agreements amounted to about $13 million.
Since that article was released, approximately 50 advertisers dropped the show. Women's rights groups demanded O'Reilly's ouster. Women inside the company railed internally and asked whether top executives actually cared about maintaining a corporate culture that was truly based on respect and trust, as was promised last year after Ailes was forced out for a similar string of allegations.
That meant O'Reilly's future at the network was in the hands of Rupert Murdoch and his sons, who control the network's parent company, 21st Century Fox. The call was made after Murdoch's sons reviewed the details of the internal investigation.
Contact the employment attorneys at Nassiri Law Group, practicing in Orange County, Riverside and Los Angeles. Call 949.375.4734.
Additional Resources:
Bill O'Reilly Is Forced Out at Fox News, April 19, 2017, By Emily Steel, The New York Times
More Blog Entries:
Uber Investigating Sexual Harassment Claims by Engineer, March 25, 2017, Orange County Sexual Harassment Lawyer Blog