The AARP, a consumer advocacy group that focuses on the rights and well-being of older people, has filed a lawsuit alleging employee wellness programs may violate workers' rights and be used to violate anti-age discrimination laws.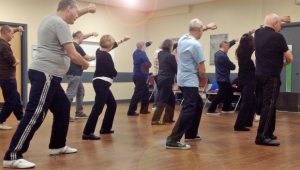 Named as a defendant in the lawsuit is the Equal Employment Opportunity Commission (EEOC) which recently released a new rule on employer wellness programs as they relate to Title I of the Americans with Disabilities Act.
For those who may not be familiar, employee wellness programs involve companies extending major financial incentives to workers who sign up as an effort to improve their health, often through weight loss, smoking cessation and exercise programs. Workers save on health costs and companies get to help lower their long-term insurance premiums. The problem, says the AARP, is that a lot of the health-related programs and activities involve assessments of medically-sensitive information about workers, such as the results of biometric screening, which is then often passed on to the company. 
The new rule from the EEOC allows employers to cap financial incentives for participation in wellness programs at 30 percent of a worker's health insurance costs, beginning next year. This is a substantial cost for some people, and that means these kinds of incentives are so high, they aren't actually voluntary anymore. Older workers in effect have to either incur a hefty financial penalty or else disclose medical information that, after it's revealed, can't ever be confidential again. This means workers are being compelled to share private genetic and health information because they aren't being offered a choice. This could amount to age discrimination and/ or disability discrimination.
These programs became commonplace under the Affordable Care Act, which gave companies the ability to extend financial incentives for people to participate.
But the AARP alleges that rather than working as an "incentive," employees are in effect being penalized if they don't participate by incurring individual health care costs that are double or sometimes triple that of what participants will pay.
The New York Times reports that the average cost for individual health insurance annually is about $6,400. Based on this figure, refusing to participant in a company wellness program can cost a worker approximately $2,000. The majority of workers today are living paycheck-to-paycheck, and that is money most people can't afford to lose.
The AARP has asked for a preliminary injunction that would halt the imposition of this new rule while the matter is pending before the court.
It's not the first time these programs have come under fire. There have long been questions about whether these programs run afoul of the Americans with Disabilities Act, which carries provisions intended to protect workers who are grappling with, say, diabetes or depression or who may have a genetic predisposition to cancer from having to disclose that information to their boss.
Some companies say this is avoided by gathering sensitive information about workers' medical needs from a third party. Companies aren't told which worker have what conditions so there is no opportunity to engage in discrimination.
The AARP's position is that while wellness programs can be helpful, those that glean medical information need to be truly voluntary.
Contact the employment attorneys at Nassiri Law Group, practicing in Orange County, Riverside and Los Angeles. Call 949.375.4734.
Additional Resources:
AARP Sues U.S. Over Rules for Wellness Programs, Oct. 24, 2016, By Reed Abelson, The New York Times
More Blog Entries:
Google Age Discrimination Lawsuit Approved as "Collective Action," Nov. 5, 2016, L.A. Age Discrimination Lawsuit