A former employee of President-Elect Donald J. Trump's golf club in New Jersey is suing the mogul and his company for what he calls "extreme" LGBT harassment and discrimination.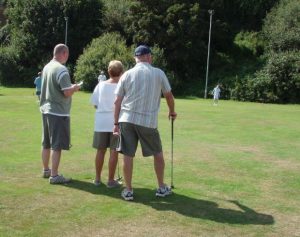 According to The Advocate, plaintiff worked in maintenance at New Jersey's Trump National Golf Club two years ago. There he alleges his co-workers frequently used highly-offensive, anti-gay slurs against him in both English and Spanish. One of his fellow workers allegedly threw a rock at his head, which resulted in his needing treatment at a local hospital.
The lawsuit was filed in state court specifically alleges sexual orientation harassment, discrimination based on his sexual orientation, hostile work environment and unlawful retaliation. He also filed claims for assault and battery. He asserts his immediate supervisor directly observed his mistreatment, and yet did nothing to intervene. After the rock-throwing incident, plaintiff filed a formal complaint with his managers. At that time, his supervisor assured him the issue would be "dealt with." However, when plaintiff went back to the manager to get further information for a police report he planned to file against his attacker, the manager refused to cooperate. Plaintiff then informed the manger he did not feel physically safe going to work after he was attacked by a co-worker, at which point he was promptly fired. 
The LGBT discrimination lawsuit is currently in the process of court-ordered mediation.
Similar to California, the non-discrimination law in New Jersey are pretty robust. The failure of an employer to take immediate and reasonable action to prevent or mitigate such action or to protect its workers violates the law.
Attorneys for Trump have denied these allegations, though they do concede plaintiff was struck with a rock by one of his fellow employees. One of the defense theories they are pursuing is known as the "Doctrine of Unclean Hands." Essentially, it means plaintiff is not entitled to equitable remedy because plaintiff is acting unethically or has acted in bad faith regarding the underlying issue. In this case, defendants allege plaintiff somehow provoked the action against him.
Courts in California and New Jersey have outlined a number of tools companies can deploy to effectively address discrimination. In this case, plaintiff argues, the employer didn't even attempt to address it and instead engaged in a pattern of willful indifference, which escalated to a dangerous level.
In addition to direct liability, plaintiff alleges the club is vicariously liable for the actions of its employees, an assertion that stems from the legal doctrine of respondeat superior, which is Latin for, "Let the Master Answer."
This is not the only employment lawsuit previously filed or pending against Trump and/or his organizations. As USA Today reported in June, at least 60 lawsuits and hundreds of liens, judgments and other filings analyzed by reporters uncovered many allegations of failing to pay employees fairly for their work. Among those were several law firms that reportedly represented him in earlier lawsuits. His companies have been cited for more than two dozen violations of the U.S. Fair Labor Standards Act since just 2005 for alleged failure to pay minimum wage or overtime. Several resulted in settlement agreements to pay back wages.
There have also been at least 20 separate lawsuits filed against Trump and his businesses for gender discrimination and sexual harassment.
Contact the employment attorneys at Nassiri Law Group, practicing in Orange County, Riverside and Los Angeles. Call 949.375.4734.
Additional Resources:
A Trump Employee Is Suing for Extreme Anti-Gay Harassment and Discrimination, Oct. 24, 2016, By Mark Joseph Stern, Slate.com
More Blog Entries:
Lesbian Discrimination Lawsuit Rejected by 7th Circuit, Aug. 6, 2016, LGBT Discrimination Lawyer Blog