Imagine not being able to put a photo of your family on your desk. Think about what you would do if you couldn't talk about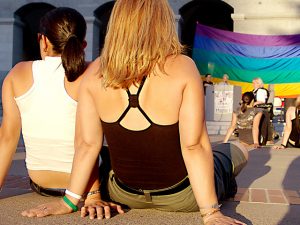 simple weekend plans with co-workers. What would you do if you couldn't even mention the name of your significant other? This is the reality for almost half of LGBTQ employees nationwide, according to a Human Rights Campaign report. A survey of workers of all sexual orientations found that of those who identified at LGBTQ, 46 percent still hide their orientation at work, a number that has remained about the same over the past 10 years. A Human Rights Campaign Report from 2008 tallied 50 percent of LGBTQ respondents as being closeted in the workplace.
Further data collected from those who identified as LGBTQ paints a pretty clear picture as to why many still hide their private lives. About 20 percent said they were told to dress in a way that was more aligned with their perceived gender. Over 50 percent said they had heard jokes about homosexuality at work at least once in while. These stats likely have contributed to the next data point: 31 percent report feeling depressed or unhappy in the workplace.On the surface this seems to be in stark contrast from other trends in society. For example, HRC measures LGBTQ-inclusive work policies each year, and this year a record 609 businesses earned the top score of 100. In 2015, the Supreme Court ruled in favor of marriage equality in Obergefell v. Hodges. But underneath the surface brews old discriminatory behaviors and cruel biases. When non-LGBTQ workers were surveyed by HRC, 59 percent said they considered discussion of sexual orientation and gender identity unprofessional. Many do not recognize that this perspective limits the ability of LGBTQ workers to casually mention their partners in the same way their fellow co-workers do regularly without a second thought. Meanwhile, marginalized communities are losing support from the Department of Justice. Attorney General Jeff Sessions has been using his authority to roll back interpretations Title VII of the Civil Rights Act of 1964 that extended protections to transgender people. He has also tried to argue that sexual orientation is not protected under Title VII, though U.S. Court of Appeals for the Second Circuit disagrees as evidenced by its ruling in the case of Zarda v. Altitude Express.
These conflicting messages have left LGBTQ employees vulnerable and afraid in their places of employment. Not only that, but most have said they don't report incidents because they don't believe it will do any good. So what can be done? First and foremost, set up a consultation with one of our experienced LGBT discrimination attorneys in Orange County. Not only will we be a strong advocate for your rights, but also will help review the details of your case and advise you on the best course of action. It's not enough for work places to be LGBTQ-friendly on paper. Someone needs to hold them accountable to the promises they make to their employees, and our skilled attorneys have the resources and know-how to do just that.
Contact the employment attorneys at Nassiri Law Group, practicing in Orange County, Riverside and Los Angeles. Call 949.375.4734.
Additional Resources:
Civil Rights Act Protects Gay Workers, Appeals Court Rules, Feb. 26, 2018, By Alan Feuer and Benjamin Weiser, New York Times
More Blog Entries:
U.S. Supreme Court Declines to Hear LGBT Work Discrimination Appeal, Dec. 12, 2017, Orange County Employment Lawyers Blog