Current and former employees at CNN, based in Atlanta, are suing the company, as well as Turner Broadcasting and Time Warner, for alleged racial discrimination.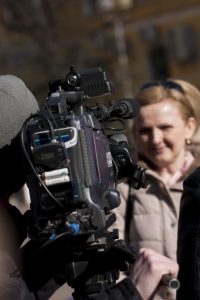 Employment attorneys are seeking class action status for the lawsuit, which they assert was spurred after several employees came forward after DeWayne Walker filed his employment lawsuit in January 2016. Those stories involved allegations of nepotism, abuse of power, discrimination, retaliation and revenge.
Walker was a CNN producer who sued the company last year for $50 million, alleging racial discrimination and later retaliation for his filing a complaint with the U.S. Equal Employment Opportunity Commission. He asserted that CNN refused to promote him for more than a dozen years because of his skin color. He says he was skipped many times over for promotions that instead went to white employees. Walker currently works at the company has an integrated marking manager. 
He's not a plaintiff in this latest case, but he's a client of this same law firm and his case is still pending and active. The named plaintiffs in this case include a former administrative assistant and also a senior manager. The law firm has indicated that 20 to 30 other employees assisted in providing information, including their own experiences with discrimination at the company.
The attorneys allege that racial discrimination was part of a company-wide practice and pattern, not a number of isolated incidents. The alleged discrimination detailed in Henley and Colbert v. Turner et al reportedly dates back more than two decades, and targeted black employees. Black men in particular were reportedly unfairly when it came to pay, promotions and workplace evaluations. The lawsuit also alleges black workers were fired at higher rates than their white counterparts and were promoted at rates that were significantly slower. There were reportedly unwritten policies when it came to evaluations and promotion processes that discriminated against black workers. These processes were highly subjective and prevented qualified black workers from an equal playing field for better jobs.
Additionally, there were a number of cases in which black workers reportedly endured racial slurs.
The law firm indicated it had been collecting information for the litigation over the course of three years.
While black employees comprise approximately 35 percent of the company's overall staffing level, including mid-level managerial, they are greatly underrepresented in the higher-tier positions and senior roles. In many cases, they work at the company for three times as long as white employees to receive the same level of promotion, the lawsuit alleges. Even where black professionals are in the highest roles, they are not in the most central departments. For example, the legal division, strategy division and media group division have not a single black person.
One of the named plaintiffs reportedly worked at the cable company for seven years as an executive administrative assistant, where she says she worked much longer hours than her white counterparts. She was also reportedly treated much worse when coming back from maternity leave. When she complained about this to human resources, she says, she was fired in retaliation.
Another worker was employed by the company for nearly 20 years, and alleged he was consistently compensated at a lower pay grade as compared to his white counterparts. He also was reportedly not given a proper job description for nearly half of his time there and also was doing senior-level managerial work but not being appropriately paid for it. He now works in senior management, but is still reportedly being underpaid, despite years of positive performance evaluations – which were reportedly nullified when they were apparently lost from his personnel file by the company.
Contact the employment attorneys at Nassiri Law Group, practicing in Orange County, Riverside and Los Angeles. Call 949.375.4734.
Additional Resources:
Black employees file class-action lawsuit against CNN, Turner, Dec. 8, 2016, By Rodney Ho, Atlanta Journal-Constitution
More Blog Entries:
Ortiz v. Werner Enters: 7th Circuit Discards Long-Held Employment Discrimination Standard, Sept. 4, 2016, Racial Discrimination Attorney Blog