Retailers have officially been put on notice by the California Labor Commission: If you hire trucking companies engage in unfair wage and hour practices against truck drivers, you too could be held jointly liable. Los Angeles truck driver wage and hour lawyers understand that to drive home the point, the agency posted a list of firms with outstanding court fines, tax liens and tax assessments can be held jointly and severally liable for future labor law violations committed by those companies.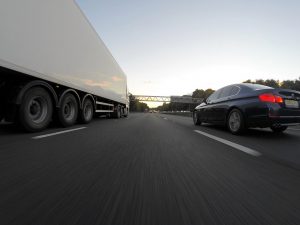 The companies in question have been deemed by the commission and/or the courts to have committed wage theft against their workers, failing to pay them what they are owed by law. In many cases, the truck drivers were intentionally misclassified as independent contractors (rather than employees), in turn cheating them of pay benefits like workers' compensation and unemployment. (This, as well as attempts to shield the firms from liability, which can be expensive, if the drivers are negligent and cause a serious truck accident resulting in someone else's injury). Additionally some of the trucking companies are accused of failing to pay truck drivers minimum wages, overtime or other expenses.
Misclassification of employees in California is a serious problem, one that widens profit margins for the companies at the expense of everyone else – including and especially the workers. The reason this is illegal has to do with unfair competition. The idea is that these firms shouldn't continue to pass on that unfair advantage to their retail contractors at the expense of workers and taxpayers.
As noted by the commission, companies that contract with other firms known to be wage thieves, they too will be responsible for the exploitation of those drivers.
The state labor commission has reportedly received some 1,000 claims of port trucking wage theft claims, with slightly less than half of those resulting in decisions made in favor of truck drivers, who in turn collected some $50 million in back pay.
SB 1402, the joint and several liability measure that went into effect last year, allows the state to hold retailers 100 percent responsible not just for the unpaid wages and unreimbursed expenses owed to drivers, but also penalties and any applicable interest that may be owed to the driver.
Los Angeles employee misclassification attorneys know this could be a major motivating force for trucking companies to align their pay practices with the state's labor laws. The state gave them all 15 days prior notice before publishing the list and putting retail firms on notice. The list is going to be updated once monthly, and companies that submit confirmation to the commission that they've paid the money owed or a settlement agreement for a different amount has been reached can expect removal from the list within 15 days.
Although not all independent contractor truck drivers in California are illegally misclassified (after all, independent contractors are common in the trucking industry overall), the fact is that courts and the commission in California have ruled against trucking companies time and again when they use the tactic of labeling drivers this way in order to cut corners and carve out an unfair advantage.
In addition to the state law that retailer liability for truck company misclassification of employees, the Los Angeles City Council (with jurisdiction over one of the biggest ports in Southern California) has been exploring the possibility of banning trucking, warehousing and third-party logistics firms that violate employment laws from being allowed to operate anywhere on city property. That would ban them from this major port and could effectively put them out of business.
Contact the employment attorneys at Nassiri Law Group, practicing in Orange County, Riverside and Los Angeles. Call 949.375.4734.
Additional Resources:
Labor Commissioner Posts List of Port Trucking Companies with Unsatisfied Judgments for Labor Violations Businesses that Hire Companies on the List to Share Liability for Subsequent Violations, Jan. 2, 2019, California Department of Industrial Relations
More Blog Entries:
California Trucking, Operators Sue Over State Contractor Test, Nov. 5, 2018, Los Angeles Truck Driver Misclassification Attorney Blog