The implicit bias and racial disparities in health care are well-documented. In America, Black people are likely to get sicker and die earlier than other racial groups – largely because they receive lower quality (and quantity) health care than white counterparts. But according to a recent California racial discrimination employment lawsuit, the patients aren't the only ones treated disparately.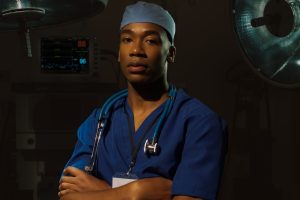 According to recent court filings, the case in question involves an internationally renowned eye doctor for children – the first and only Black doctor to chair a department in the Palo Alto Medical Foundation area of Sutter Health, one of the largest hospital systems in California. A longtime employee, he alleges that racism in the workplace resulted in his being the subject of repeated derogatory comments, as well as reductions in salary and demotions.
He referred to the racism he suffered as "they type that hits you in the back of the head when you don't see it coming."
Despite excelling in leadership roles, he says, he was demoted by managers who sought to avoid accountability for their own deficient performances. He detailed a workplace culture in which Black staff and doctors were disproportionately disciplined, as well as routinely undermined and disrespected. Although he'd been promoted several times – the most recent as medical director over surgical specialties for the regional medical group – it didn't last long. His supervisors asked him to facilitate a restructuring of the hospital that would have required several other doctors to be transferred to other locations. But when those colleagues voiced staunch opposition to moving, the plan was axed – and the plaintiff was in turn stripped of his title as medical director and his pay was slashed by 40 percent. Despite excelling in his field, he said his continued rise came to a halt because the predominantly white executives felt discomfort about his race.
What followed that, he said, was a period of "racial scapegoating," being blamed for issues that weren't his doing. At one point, he said, he was asked to use back stairs to enter the facility, rather than the elevator that the white doctors used.
His claims are bolstered by details provided by seven other Black doctors at the system, though they are anonymous in the filing for fear of retaliation.
The system as a whole has 20 hospitals, more than 50,000 employees, and treats 3 million patients a year. However, of the more than 350 doctors holding leadership roles, only three of them are Black. That's according to the plaintiff, although the defense would not confirm or deny those figures – and three other large health systems wouldn't provide their demographic breakdowns either when asked by a local news team.
Issues like this aren't isolated, according to other doctors of color. Recently, an Oakland-area physician founded a non-profit dedicated specifically to studying the disparities Black doctors must overcome when facing workplace racial discrimination. The founder of that organization, a practicing M.D. of over 20 years herself, said that the careers of Black doctors are often derailed from the earliest stages, in college and through their mandated residency training. She said Black people have better health outcomes when they are treated by Black doctors, and thus, this work goes beyond simply workplace equity.
These assertions appear to be supported by peer-reviewed research. For instance, a study published this year in JAMA Surgery revealed Black surgical residents faced higher rates of attrition compared to their counterparts of other races. Essentially, they were more likely to be kicked out of or leave these programs.
Whereas Black people comprise 14 percent of the U.S. population, only 6 percent of doctors in this country are Black.
If you are a doctor or healthcare worker who believes you have been discriminated against at work on the basis of race, our dedicated Los Angeles employment lawyers can help. We offer free initial consultations to help you make informed choices about your next step.
Contact the employment attorneys at Nassiri Law Group, practicing in Newport Beach, Riverside and Los Angeles. Call 714-937-2020.
Additional Resources:
Racial and Sex Disparities in Resident Attrition Among Surgical Subspecialties, Feb. 8, 2023, JAMA Surgery
More Blog Entries:
How Hiring Technology Can Lead to Los Angeles Employment Discrimination Lawsuit, March 6, 2023, Los Angeles Workplace Discrimination Attorney Blog