In-N-Out Burger Inc. employees should be allowed to wear buttons in support of higher minimum wage,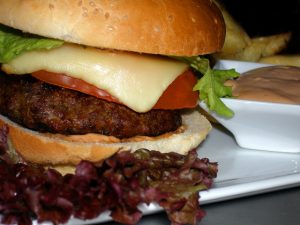 according to a recent ruling from a federal appeals court. A panel with the 5th Circuit Court of Appeals recently unanimously upheld a decision by National Labor Relations Board in a case regarding employees at In-N-Out Burger wearing Fight for $15 buttons. The company tried to ban the buttons arguing they interfered with the company's image, which includes a very specific uniform and a dress code that prohibits wearing pins or stickers. The company also claimed the buttons could pose food safety concerns, but NLRB and the panel said that was not enough reason to restrict workers' rights and that doing so was in violation of federal law, according to a report from Reuters.
Fight for $15 is an organization that supports unions and pushes for higher minimum wage, especially among fast-food workers across the country. The National Labor Relations Act of 1935, protects the right of workers to join a union and encourages collective bargaining. It also holds firm against practices by employers deemed harmful to the general welfare of workers. What does all of this have to do with employees wearing buttons?
As our Los Angeles employee rights attorneys can explain, the law specifically protects the right of employees to "engage in other concerted activities for the purpose of collective bargaining or other mutual aid or protection." NLRB and the court determined this included wearing pins supporting labor movements such as Fight for $15. When managers asked a worker directly to remove the pin, they violated this act. The ruling went a step further, declaring the company needed to remove the "no pins, no stickers" policy from their dress code altogether.
In-N-Out Burger is headquartered in Irvine, Calif., though the incidents in this case took place at a location in Austin, Texas. Current minimum wage in California is $11 and hour, but is on track to gradually increase up to $13 for establishments with 26 workers or more in 2020. Los Angeles, with its higher cost of living, has done one better by putting the city on track to have a $15 minimum hourly wage in 2020. Texas, meanwhile, is holding steady at $7.25 per hour minimum wage. These numbers show a big disparity even between employees of the same company. This brings us to the heart of the issue at hand, which is the right of workers to join forces to improve working conditions for all employees. There is power in numbers, as the Fight for $15 movement and unions are proving.
Sometimes, though, employees don't have the luxury of a nationwide organization to fight for their cause. When you are the victim of harassment, discrimination, wrongful termination, or wage violations in the workplace, it can feel very lonely indeed. That is why our trusted legal team is here to offer our experience and skill to your case. Taking on an entire corporation or even just your boss can be a risky and stressful experience. Our team knows how to navigate workplace policies and the law to make sure your rights are protected. If you think you have a case, contact us today for a free case evaluation.
Contact the employment attorneys at Nassiri Law Group, practicing in Orange County, Riverside and Los Angeles. Call 949.375.4734.
Additional Resources:
In-N-Out Burger, Incorporated v. National Labor Relations Board, July 6, 2018
More Blog Entries:
Los Angeles Minimum Wage $15 per Hour by 2020, May 19, 2015, Los Angeles Employment Lawyers Blog