A California hotel housekeeper is suing her former employer, alleging Irvine sexual harassment that went unchecked for years, culminating in attack by a drunk male guest while she cleaned a bathroom in the lobby. Bloomberg reported that as he grabbed her, the man allegedly offered her $50. When she reported the attack to supervisors immediately after, he allegedly laughed and cracked a joke, saying the guest should have offered her $100. Irvine sexual harassment attorneys know that such a crude response not only shocks the conscience, it will be used as evidence the employer failed to protect this worker – allegedly for years.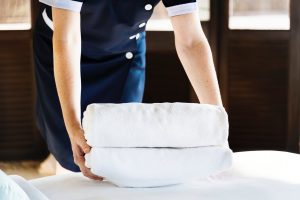 At the time, plaintiff had worked at that hotel location for some 18 years, according to Bloomberg. During that time, she alleges male customers frequently urinated in front of her and made inappropriate comments or advances. It was a regular occurrence, she would later indicate in her sexual harassment lawsuit, for all the female housekeepers, one she and her co-workers had been complaining about for years. Most recently, she'd asked her bosses repeatedly for a sign that would block guests from entering bathrooms while she cleaned. She was eventually given an 8×10 sign to stick on the door, though it didn't block customers from entering. (The hotel reportedly did have signs that blocked guests from entering these areas in the past, but allegedly discontinued because they were "old-fashioned.")
It was around this time the sexual assault occurred. Plaintiff said her employer did nothing in response – there was no investigation and no additional protection provided. She's now suing for Irvine sexual harassment, seeking injunctive relief and unspecified damages. 
Long-Standing Risk of Harassment for Hotel Workers
It's been at least a full year since shareholders at this company in particular have been voicing concerns about employee protection against customer harassment. At a meeting last spring, eight other female hotel employees allege they had been harassed, groped and assaulted, and urged the company to take action.
As her employment attorney explained, plaintiff was powerless to do anything herself; she couldn't very well decline to clean the bathrooms.
An executive of the hotel insisted the chain was focused on deterring and combating any and all harassment.
Sexual harassment in hotels in California is nothing new. What's risen the profile – and the voice of victims – in the last two years has been the rise of #metoo, which swelled after actresses in Hollywood, CA made public what until then had been an open secret regarding the alleged sexual predation of studio executive Harvey Weinstein. These kinds of incidents, though, were never just insulated to the mansions of movie producers.
Hotel workers have been especially vulnerable to workplace harassment, according to the U.S. Equal Employment Opportunity Commission, which found more than one-fourth of all complaints of sexual harassment came from within those service industries in which there was a high number of service sector workers.
Since 2012, hotel unions have made protections of workers from sexual assault a top demand. You may recall that was the year the French head of the International Monetary Fund was accused of sexual assault of a hotel worker in New York. That case resulted in dropped criminal charges and a civil settlement for an undisclosed sum. It also led to the passage of laws in some cities like Chicago and Seattle that now require hotels to provide panic buttons to workers whose job has them working alone in guestrooms or restrooms. Defendant company in this case specifically challenged the law in Seattle, arguing the law "included several regulations that had nothing to do with safety…"
Employers – such as hotels, restaurants, cruise ships and others who employ service industry professionals – have a legal duty to protect their employees from customer harassment and assault. When they do not, it can be grounds for civil litigation through an employment lawsuit.
Contact the employment attorneys at Nassiri Law Group, practicing in Orange County, Riverside and Los Angeles. Call 949.375.4734.
Additional Resources:
Marriott Sued by Housekeeper Over Guest Sexual Misconduct, Jan. 28, 2019, By Rebecca Greenfield, Bloomberg
More Blog Entries:
California Sexual Harassment Accusers Protected From Defamation Lawsuits, Jan. 12, 2018, Irvine Sexual Harassment Lawyer Blog