The hotel industry has been hit hard by the coronavirus pandemic. The Chateau Marmont in Hollywood is no exception, so it was no great shock when hundreds of employees were laid off in the wake of tanking bookings. But in the months since, speculation has increased that the layoffs may have been more of a calculated effort to tamp down unionization efforts by staffers, several of whom allege flagrant workplace racial discrimination, sexual harassment and retaliation.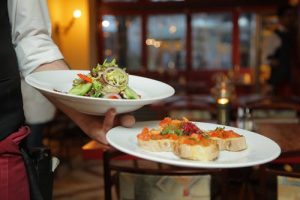 The Hollywood Reporter published an investigation into these claims against the landmark hotel late last year after speaking to more than 30 employees. In a recent follow-up, the publication revealed several employment lawsuits have been filed against the company and former CEO, who himself was accused of sexual misconduct by at least five employees.
The story is notable because dozens of employees broke the hospitality industry's widely accepted code of silence to shine a light on what they say was longstanding racial discrimination and sexual misconduct that managers and owners were complicit in brushing aside, if not in perpetuating it themselves. The former owner firmly denied the allegations, but now will have to answer to some of them in court.
The first lawsuit, filed in December by a Black guest relations worker, alleged negligence by his superiors in their handling of a complaint he filed regarding explicit text messages from a white female colleague who was reportedly inebriated. The messages were reportedly unsolicited, sexual in nature and unwanted. He said his superiors did nothing, despite following the directives as outlined in the employee handbook. As a Black man, not only did the messages immediately scare him, but he wondered how the situation might have been handled differently were the roles reversed.
The second lawsuit was filed by an events server who alleged discrimination, sexual harassment and retaliation. Despite her strong performance reviews and extensive experience, she said she was regularly passed over for promotions in favor of younger, less experienced white colleagues – some of whom she was responsible for training in their new roles. This type of discrimination was apparently recognized by white staffers as well. One quoted by name in the initial HR piece said that for six years, she was given unwarranted privileges, opportunities, sections and shifts compared to her non-white colleagues because she had "a certain look that (the owner) and he upper management preferred." White staffers were routinely selected for higher-visibility roles at the "front of the house." So cognizant were the managers of the owner's preferences in this regard that when he was on site, managers shifted the front-of-the-house staff to appease him.
Staffers told HR that these were no isolated incidences and they extended to hiring and promotion practices across the board, with Hispanic and Black employees far less likely to be hired, advanced or as well paid.
The second plaintiff further alleges constant sexual harassment and assault by the hotel's rich and famous guests and a clear unwillingness to address it for fear of losing their clientele. In her lawsuit, she says there was hardly ever an event she worked wherein she was not brushed up against, grabbed or pressed against by male patrons. She said she was required to maintain her composure despite feeling disgusted and sexually violated. She consistently pushed managers to draw a firmer line in the sand on sexual harassment had no real impact. Even though employee contracts explicitly state the hotel doesn't allow guests to touch employees or speak to them in a derogatory manner, such instances were generally brushed off and viewed as an unavoidable fact of working in hospitality – particularly in a luxury hotel with famous clientele.
Said plaintiff of dealing with these indignities daily, "I don't like having to leave my dignity at the door."
Some activists note that these experiences are representative of much larger problems, but they are exaggerated due to the outsized wealth and power imbalance of the staff versus the clientele. The Chateau's signature tagline has long been, "Always a safe haven," but that was only ever in reference to its high-paying guests. Staffers, they say, aren't afforded the same treatment.
As longtime Los Angeles employment discrimination lawyers, we are committed to ensuring our client's rights are protected and that illegal conduct does not go unanswered.
Contact the employment attorneys at Nassiri Law Group, practicing in Orange County, Riverside and Los Angeles. Call 949-375-4734.
Additional Resources:
Chateau Marmont Hit by Multiple Lawsuits in Wake of Racial Discrimination, Sexual Misconduct Claims, Jan. 28, 2021, By Gary Baum, The Hollywood Reporter