A new year on the horizon, there are numerous new California employment laws for workplaces to ensure they follow. These range from expanded family leave to heightened workplace safety rules to minimum wage boosts.
Minimum Wage Increases
For starters, on the very first day of the year, Jan. 1st, the required minimum wage rate in California will be kicked up to $15 hourly among businesses with 26 or more employees. Those with fewer workers will be required to pay at least $14 hourly.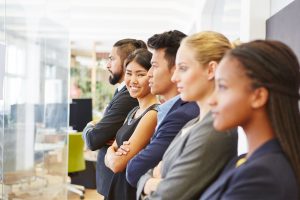 Dozens of California jurisdictions, however, have their own minimum wage requirements. For instance, minimum wage in Los Angeles was already at $15 hourly as of 2021, applicable to anyone who works at least two hours (including remotely) within a one-week period in the unincorporated areas of Los Angeles. In Sonoma, the rate is $16 hourly for large employers. In Los Altos, the minimum wage is increasing next year from $15.65 hourly to $16.40 hourly. In Menlo Park, it's going up to $15.65 at the start of the year. The employee's employment status, where they live or where the business is headquartered doesn't determine whether the minimum wage applies.
A Wage Order is supposed to be placed in a conspicuous spot in every job site, clearly showing both the federal and state minimum wages. Both employers and employees would do well to double check whether any more stringent minimum wage rules apply in their city or county jurisdiction. Where there is a conflict between local, state, or federal minimum wages, employers must pay the rate that is most beneficial to employees.
Note: You cannot waive your right to minimum wages. They are required by law.
Agricultural Worker Overtime Increases
Agricultural workers are benefitting from two new wage and hour rules.
The first involves H-2A workers, whose pay increase per the Department of Labor's annual survey was unfrozen as a result of a recent lawsuit. (The Trump administration had frozen wages in an effort to help farms impacted by the pandemic. The workers prevailed in litigation, and minimum hourly wages will go up next year.)
Secondly, there was the passage of Assembly Bill 1066. Although it was signed into law in 2016, it allowed for a three-year adjustment period before formally going into effect. The law holds that companies with 25 or fewer workers are required to pay overtime (time-and-a-half) to agricultural workers after 9.5 hours worked. In another three years (by 2025), they'll be required to pay agricultural workers overtime pay beyond 8 hours worked in a given day. At that time, they'll also be required to pay double for any time a worker puts in beyond 12 hours.
Although this is a substantial change, employers knew it was coming for years, so they've had time to prepare and ensure they were in compliance. As it stands, workers outside the agricultural industry are already entitled to time-and-a-half pay for any hours worked above 8 in a 40-hour work week. Agricultural workers, meanwhile, have been entitled to bonus pay only after working 10 hours in a day or 60 hours in a week.
Many farmworker advocates say it's long past time we stop treating these valuable essential workers as if they're second-class employees.
Wages for Workers With Disabilities
Workers with disabilities will be getting an increase in minimum wages starting Jan. 1st, per the passage of S.B. 639. The law, signed in July, phases out a subminimum wage for workers with disabilities. No new special licenses are going to be doled out from that point forward. Within three years, the minimum wage mandate is going to be in place for all workplaces.
As it stands, more than 12,000 individuals with disabilities are employed in California, but earning less than the minimum wage. In some cases, these workers are earning a paltry $2 hourly for menial work.
Greater Access to Family Leave
Starting on the first day of 2022, employees will be allowed to cite care of parents-in-law (not just their own parents) as grounds for being able to take up to 12 weeks of unpaid leave under the state's Family Rights Act.
Wage Theft Will Be a Crime
Finally, intentional wage theft in California will be a criminal offense, starting on Jan. 1st.
Wage theft can include unlawful deprivation of gratuities, benefits or other compensation. If it reaches $950 or more for a single employee or $2,350 or more for two or more workers in a consecutive 12-month stretch, it can be charged as either misdemeanor or felony grand theft under state law. Wage theft from independent contractors is also included in this provision of law.
Contact the employment attorneys at Nassiri Law Group, practicing in Newport Beach, Riverside and Los Angeles. Call 714-937-2020.
Additional Resources:
Labor Commissioner's Office, California Department of Industrial Relations