Southern California's garment industry has in the past been accused of being one of the biggest wage theft offenders in the state. It's been so bad in recent years that the California Labor Commissioner's Office released a brochure specific to the problem for industry workers, noting that garment workers who aren't paid for their work are entitled to file claims against all "guarantors" of wages, which includes the contractor that hired them as well as the manufacturers and in some cases the retailers.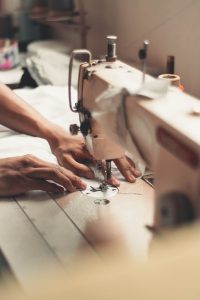 The latest among these is a company called Fashion Nova. According to The New York Times, the L.A.-based online retailer with celebrity and influencer endorsements has found its niche of producing cheap clothing that looks much more expensive. It's tailored to the Instagram crowd looking to keep their digs fresh every few weeks. Blowing a month or two's expendable income on a pair of jeans isn't an option for these consumers, explaining Fashion Nova's rise in popularity.
But the U.S. Labor Department reports it's the garment industry workers who ultimately pay the price. The DOL has found that the company is able to mass produce cheap clothing in the U.S. because the people actually sewing the garments are paid unlawfully low wages.
Our Los Angeles garment industry wage attorneys know it's far from the only one. L.A. is filled with factories that don't pay workers on-the-books as they should. Many are looking to compete with overseas garment makers who can afford to pay even less, but must contend with shipping costs. (Some, for the moment anyway, must also overcome U.S.-imposed tariffs on certain goods.)
On the U.S. side, the standard modus operandi is to hire middlemen to make garments for the bigger brand names. Some of these companies pay the people sewing the garments less than $3 hourly.
One study conducted by UCLA's Labor Center found that workers in Los Angeles as a whole are cheated out of more than $26 million weekly in unpaid wages, and that companies in the garment industry are among the most frequent offenders.
The DOL's Wage and Hour Division investigates wage violation allegations at numerous Los Angeles sewing contractors every year. Investigators pop in unannounced, review payroll data, talk to employees and interview the owners. Fashion Nova was the subject of one of those investigations, and officials concluded the company owed nearly $4 million in back wages to workers employed by the company between 2016 and 2019.
But the company, citing the use of contractors, insists that any assertion it's underpaying anyone working for its brand is "categorically false." It's true the company doesn't deal directly with factory workers, despite the fact that it's label is on the clothing being designed and produced. Rather, it places bulk orders with companies responsible for designing the clothes. It then ships fabric to separate companies that hire sewers as contractors.
Since the investigations began, the company has shifted its supply chain – from 80 percent of clothes being made in the U.S. to now less than 50 percent.
Workers at these factories told journalists the conditions were poor – cramped quarters teeming with cockroaches, rats and other pests. Workers reported they wouldn't miss a day of work, but their pay would vary depending on how many garments they could sew – sometimes as little as 4 pennies per sleeve. Several workers have taken the companies involved to court and won settlements for back pay and other benefits.
They may be the lucky ones. Some workers never recoup those stolen wages because the factories shut down. To address this, Gov. Newsom earlier this year signed a budget that includes millions of dollars to fund the Garment Restitution Fund, a state program that provides relief to these workers. Created 20 years ago, it's been essentially defunct because its coffers were empty. Now, workers who win their cases will have a means of pursuing real compensation. Those that have been on the wait list to receive funds will also now be able to collect.
Contact the employment attorneys at Nassiri Law Group, practicing in Orange County, Riverside and Los Angeles. Call 949-375-4734.
Additional Resources:
Fashion Nova's Secret: Underpaid Workers in Los Angeles Factories, Dec. 16, 2019, By Natalie Kitroeff, The New York Times