A janitorial company in Anaheim is being sued by the state of California for allegedly paying some 150 works just $400 monthly in wages over the past four years. As the Orange County Register reports, that is far below the minimum wage, which is why California Attorney General Xavier Becerra reports the firm has become a top priority for his office.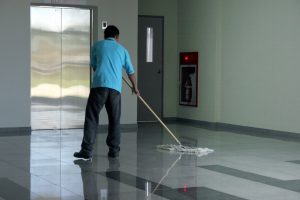 The janitorial firm reportedly serves an estimated 80 major retailers throughout Southern California, including Toys R Us, Burlington Coat Factory and JoAnne's Fabrics. These retailers, however, are not accused of any wrongdoing because they contract the work to a Pennsylvania-based firm that specializes in subcontracting such services. As our employment law attorneys can explain, this kind of subcontracting arrangement is typical in the retail sector as well as others, as it shields them from wage-and-hour lawsuits. Wage theft and other claims are common in these industries, and affected workers range from janitors (as in this case) to garment workers.
But while the retailers did not directly employ the workers, Becerra was quoted by the Register as saying he hopes the lawsuit puts large retailers and other firms on notice about such practices. Even if workers aren't getting a paycheck from the retailer, they are still working within their facilities and in furtherance of their business, and that may be grounds to establish some level of responsibility.
Among the allegations against the janitorial firm in the complaint allege that since 2013:
The company paid workers fixed amounts for certain services, and records fail to accurately record how many hours each employee worked;
The company has not paid its workers at least the minimum wage as outlined by statute for a large number of the jobs workers were performing;
For certain jobs, supervisors would pair employees with a "partner" or else would ask employees to pick a partner. The "partner" was never put on payroll or separately paid for their work. Rather, it was expected the first employee would share their wages with the partner.
The contracting firm personally signed payroll checks issued to employees, but none of those checks had itemized wage statements and they didn't reflect the hourly rate of payment.
Tax reports submitted by the contracting firm to state employment officials fail to list accurately all of the company's employees or the wages that were paid to those employees.
Payments made for work performed failed to deduct state taxes.
Since at least 2015, the contracting firm and its owner intentionally gave false information to a workers' compensation insurance carrier. This information was central to determining how much the workers' compensation insurance premium would cost.
These actions, the state attorney general alleges, were in violation of the Business and Professions Code 17200, against unfair competition, as well as other provisions.
Becerra is seeking restitution to workers in the amount of at least $1 million as well as a minimum fine of $500,000 (a civil penalty based on a maximum of $2,500 for each act of unfair competition) and compensation for court costs and attorney fees.
Wage theft attorneys in Orange County recognize this is a pervasive problem, one which takes many forms. While there are benefits to collective actions like this, individuals are free to file their own lawsuits as well.
Contact the employment attorneys at Nassiri Law Group, practicing in Orange County, Riverside and Los Angeles. Call 949.375.4734.
Additional Resources:
California sues 'unscrupulous' Orange County janitorial firm for wage theft, fraud, Nov. 30, 2017, By Margot Roosevelt, Orange County Register
More Blog Entries:
Making a Wage/Hour Claim in Los Angeles, Dec. 6, 2017, Orange County Wage and Hour Theft Attorney Blog