Teacher's Union: Gender Discrimination Pervades Contract Talks
Frustrated with stagnant negotiations with city leaders, the teachers' union in Boston is accusing the city of gender discrimination and bias.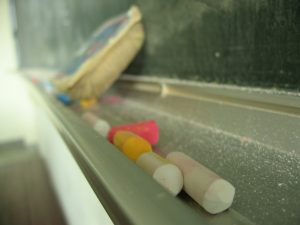 The union is comprised mostly of women, and talks regarding a new contract between the union and the city have been stalled for a good year now. The president of the union noted that more than three-fourths of the city's teachers are women, and the city has repeatedly treated them poorly and with disrespect. He asserted that there was "little doubt" that if the union were male-dominated rather than female-dominated that a contract would have been settled long ago.
According to The Boston Globe, city spokespersons declined to respond to allegations of gender discrimination, except to say that conversations between the two sides are still underway and that the city "hopes" for a faster resolution that will ultimately help to best serve the students in the district.
The school district spokesperson declined to comment also on any claim of gender discrimination. It was noteworthy the claim was made in the midst of International Women's Day, which coincided with the International Women's Strike – A Day Without a Woman. The idea was to draw attention to the many issues women continue to face, including the necessity for equal pay, affordable child care, paid family leave and an end to racism.
Although activists had encouraged female workers to strike in solidarity, the teachers' union did not back this approach, not wishing to impede learning for the school's 56,000 students. Teacher's unions are forbidden by state law in Massachusetts, so it wasn't as if they had much choice.
However, the union did help to sponsor the Day Without a Woman rally that same evening.
The union has been in contract negotiations with the city for approximately 14 months, seeking to replace an old contract that expired last summer. However, those talks have sputtered out as the city has been unresponsive to the union's requests, particularly as it relates to teacher pay. Union leaders say teachers have yet to be offered a fair pay deal, and attributes this to purposely undervaluing the everyday work. They also noted that the patrolman's union – which is comprised almost entirely of men – promptly received a four-year deal with an annual 2 percent pay raise.
Of course, teachers and police are two different kinds of professionals and varying factors can affect base salaries and benefits. Nonetheless, union leaders spot a clear disparity in even a willingness to come to the table.
City leaders have previously said that teachers in the capital city are paid much higher than most of their peers in the Commonwealth and nationally.
However, this isn't the first time the union has alleged gender discrimination has crept into these negotiations. Soon after these talks began, the union was highly critical of the city's push to end the current practice that guarantees teachers can have six months of maternity leave and still return to the same job position they held previously.
Our employment attorneys know gender discrimination can take many forms, and it's not always easy to prove. If you have concerns, our experienced attorneys can help answer your questions.
Contact the employment attorneys at Nassiri Law Group, practicing in Orange County, Riverside and Los Angeles. Call 714-937-2020.
Additional Resources:
Boston Teachers Union accuses city of gender bias in contract talks, March 7, 2017, By James Vaznis, The Boston Globe
More Blog Entries:
Women Face Employment Consequences for Reproductive Health Choices, Feb. 5, 2017, Gender Discrimination Lawyer Blog