What started as a California racial discrimination wrongful termination lawsuit filed by a physician has on appeal broadened employee rights of refusal in so-called "no rehire clauses" in settlement.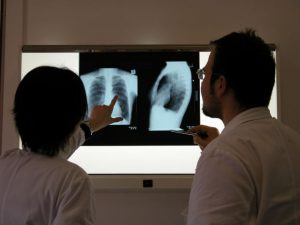 The case, Golden v. California Emergency Physicians Medicine Group, had previously been before the 9th DCA, but the appellate court weighed it once more to consider whether an employee could lawfully be ordered to sign an employment lawsuit settlement that would restrict future employment with the former employer/ defendant.
The answer is: It depends. In this case, some of the factors that came into play were the size and reach of defendant's corporation, as well as the fact that the restriction included a provision that plaintiff would be at risk for termination even if his current employer or another in the future contracted with his former employer. For instance, if his former employer – a partnership of 2,000 doctors providing services to emergency rooms and 160 other facilities in 10 states – contracted to provide, say anesthesiology services with a hospital wherein plaintiff was working, his employment would be in jeopardy. That, said the court, violated his rights as outlined in BPC Section 16600.
As Los Angeles wrongful termination attorneys can explain, this is something we may see be highly relevant in future California employment law cases against large corporate defendants, particularly for professionals in specialized fields.
No Rehire Clause the Sticking Point in Lengthy Employment Battle
Plaintiff began working for defendant five years into his medical career, in 2000. Seven years later, however, he was terminated, the hospital system citing his lack of board certification. Plaintiff doctor, however, argued the real reason was racial discrimination. He filed a California employment lawsuit, alleging racial discrimination, wrongful termination and more.
Finally, the parties reached an agreement to settle the case for what was objectively a large sum of money, in exchange for dismissal of the action AND a waiver of any and all rights to employment with the company or at any facility it might own or with which it might contract in the future. This last part was referred to in litigation as a no-employment provision.
However, the doctor refused to sign that agreement, and even asked the court to set it aside. His employment lawyer sought to sign off as counsel and compel his client to sign the agreement so he could collect his contingency fee (remember: employment attorneys aren't paid unless or until you are). The magistrate judge ordered plaintiff to sign the document, a recommendation that was adopted by the district court, finding the agreement not outside the bounds of the state's business and professional code, which might make it unlawful. The doctor still refused to sign it until he could appeal.
In 2015, the Ninth Circuit Court of Appeal reversed the district court and remanded the case back to district court for a resolution on the question of whether the settlement terms amounted to something known as a "restraint of substantial character" to plaintiff's practice of medicine.
Once again, district court ordered him to sign, finding the employment restrictions in settlement did not fall under the limited state law exception.
Plaintiff again refused to sign and appeal. This time, the appellate court considered whether the district court had properly determined this agreement didn't fall within the exception. The court determined that while the first future employment provision of the contract barring him from working at a facility owned or managed by defendant didn't impede his rights. However the other two did.
Those segments of the agreement stated the doctor could be prohibited against working at a facility that was contracted with defendant AND also at working at any facilities to which the hospital system might in the future acquire rights or provide services. That meant that if the urgent care center where plaintiff worked decided to contract with defendant OR defendant acquired any rights in that facility, plaintiff would be at risk of termination from that job – with no risk of liability for a wrongful termination lawsuit against defendant.
Those two provisions,the court ruled "substantially restrained (the doctor's) medicine practice and thus were barred by the state's business and professional code. The size of the business and the fact that it handles nearly one-third of all California hospital emergency room admissions, proved this to be true, the 9th DCA found.
Of course, we should note the no-rehire provisions at issue in this contract were very broad. It's quite feasible a no-rehire clause in a narrower settlement agreement wouldn't apply. Furthermore, smaller employers might still impose the same type of restrictions than the larger ones that hold a greater share of the market.
Contact the employment attorneys at Nassiri Law Group, practicing in Orange County, Riverside and Los Angeles. Call 949.375.4734.
Additional Resources:
Golden v. California Emergency Physicians Medicine Group, July 24, 2018, U.S. Court of Appeals for the Ninth District
More Blog Entries:
Workers' Compensation Retaliation in California Alleged by Employees, Sept. 10, 2018, L.A. Wrongful Termination Attorney Blog