A longtime agent in Tennessee has filed a lawsuit against Los Angeles-headquartered Agency for the Performing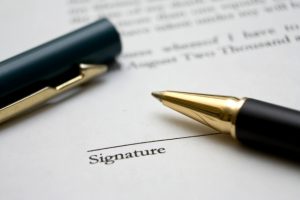 Arts alleging a hostile work environment and seeking to be released from his contract. The lawsuit was filed in the U.S. District Court, Middle District of Tennessee. Plaintiff claims executives at the agency have tried to edge him out and take his clients, sent hostile and abusive emails to him, and threw him into a wall during an argument, according to a report from Tennessean. The agent alleged an internal inquiry into the events led to a vague response from the company, essentially calling on all parties involved to follow the rules and get along. Plaintiff found this conclusion unacceptable, and believes APA's tolerance of a hostile work environment frees him of his contract, which is set to expire in 2019.
Employment contracts are a necessary tool in the modern workplace. They offer stability for both the employer and the employee and make clear up front the terms of employment, leaving little room for interpretation and surprises down the road. Extenuating circumstances must be taken into consideration as well, though, for employment contracts to be truly beneficial. For example, if the climate in the workplace turns hostile, making it difficult for employees to perform their duties, or if something happens that makes the employees no longer feel safe in their work environment, the terms of a contract are no longer fair.
This is where the issue of arbitration comes into play. Companies can mandate that internal disputes be handled in arbitration, a closed-circuit methodology in which an arbitrator is used to settle a disagreement outside of court. If the result of the arbitration is not to the satisfaction to the employee, however, they often do not have the luxury of an appeals process like they would in the court system. This form of conflict resolution will no doubt become more prominent after the recent Supreme Court 5-4 ruling supporting the legality of arbitration clauses and stating that they must be upheld under the Federal Arbitration Act. Title 9 US Code, Chapter 1, Section 3 states if a lawsuit is brought before a court in which there was a written agreement to handle disputes under arbitration, and one of the parties issues an application to stay the trial, the court shall put the trial on hold until arbitration has taken place.
APA claims plaintiff is held to such an arbitration clause in his contract, but his attorneys are fighting to free him of this contract so he can work elsewhere and remove himself from the alleged hostile environment altogether.
Employment contracts are a serious matter, and employees would be wise not to try to interpret them on their own. It takes the skill and experience of knowledgeable employment attorneys to not only analyze the contents of such a contract, but also to be familiar with all applicable laws that can protect employees. Our Los Angeles employment lawyers have the know-how to help protect you from hostile work environments and give insight on employment contracts, arbitration clauses, and your rights in the face of these issues.
Contact the employment attorneys at Nassiri Law Group, practicing in Orange County, Riverside and Los Angeles. Call 949.375.4734.
Additional Resources:
APA Nashville Agent Alleges Abusive Conduct in Lawsuit, June 7, 2018, By Taylor Morris, Billboard
More Blog Entries:
Supreme Court Takes Shot at Class Action Lawsuits, May 21, 2018, Los Angeles Employment Lawyers Blog