Two new employment laws in California went into effect Jan. 1, 2023 – one expanding worker protections when a loved one dies, and another expanding existing sick leave laws when caring for a loved one outside of their immediate family circle.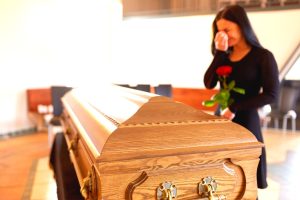 As our Los Angeles employment lawyers can explain, California has some of the strongest worker rights protections in the country – and these two new statutes are good examples.
Let's start with Bereavement Leave – or more specifically, Assembly Bill 1949. This is a measure amending the California's Healthy Workplaces Healthy Families Act to allow workers to take paid bereavement leave, also known as funeral leave or grievance leave.
New California Bereavement Leave Law for Employees
A fair amount of employers in California already offer some type of bereavement leave to their workers as part of their benefits package. Most have a set number of workdays that employees can take off if a loved one dies. Some require that workers first exhaust all their vacation and/or sick days first before they can be permitted to take any additional days for bereavement. Additionally, there are a number of cities throughout the state that require employers operating in those jurisdictions to provide workers with bereavement leave. But these policies are a patchwork of rules, with broad variations on how many days off are permitted, how close in relation the worker must be to the decedent for the worker to claim benefits, how the time must be taken (consecutively, broken up, etc.), and how requests must be made. Smaller employers may not have a set bereavement policy, but rather make determinations on a case-by-case basis.
This new law requires private employers with five (5) or more employees to provide any eligible employees (having worked there at least 30 days) to at least 5 days of bereavement leave upon the death of a family member. Some companies already offer more than this, but any employer who offers fewer days than this will need to amend their policies.
"Family member" in this case can mean:
Spouse/domestic partner.
Child.
Parent.
Sibling.
Grandparent.
Grandchild.
Parent in-law.
The company may allow time off to grieve the loss of extended family members or loved ones (boyfriend/girlfriend, cousins, aunts/uncles, etc.), but the law doesn't require that they do so.
The updated law does not require that bereavement leave be paid unless the employer already has a paid bereavement leave policy in place. Employers must also allow workers to use any remaining vacation, sick, or other paid time to extend their bereavement leave (if the employee chooses).
Employees don't have to take all 5 days at once, and can spread it out over time. However, all bereavement days must be taken within three months of the death.
Employers can ask workers for documented proof of the death (obituary, death certificate, verification of burial, memorial service, cremation, religious service, etc.) within 30 days of the worker taking that first day off. If the employer requests this information, they must keep it confidential. Employers also may not discriminate or retaliate against against employees for taking bereavement leave.
Updated California Employee Sick Leave Law
The other recently-expanded workers' rights law in California pertains to sick leave. Existing provisions of the California Family Rights Act require companies with 5 more more employees to take up to 12 weeks of unpaid, protected leave over the course of one year for themselves (such as after the birth of the child) or to care for a child, parent, parent-in-law, grandparent, grandchild, sibling, spouse, or domestic partner who is struggling with a serious health issue. (There's also the federal Family and Medical Leave Act, better known as FMLA, that also allows for this type of leave, but it only applies to employers with 50 or more employees.)
Assembly Bill 1041 expanded this provision by allowing workers to take this protected leave to care for a "designated person" in their social/family circle. It's an overdue provision that recognizes many families aren't solely forged in blood or the law. Now under the amended California's Healthy Workplaces Healthy Families Act, a "designated person" is not strictly defined by a precise relationship. Rather, it can be anyone who is related by blood OR whose association with the worker is the equivalent of a family relationship. The expectation by legislators is that employers will allow employees to define who their "designated people" are, even when there's no blood or legal tie.
This amendment to the law doesn't change the amount of paid sick leave employees can take for this purpose.
If you believe your employment rights have been violated in Southern California, our dedicated employment lawyers in Los Angeles, Riverside, and Rancho Cucamonga can help.
Contact the employment attorneys at Nassiri Law Group, practicing in Newport Beach, Riverside and Los Angeles. Call 714-937-2020.
Additional Resources:
Assembly Bill 1949, Employees: bereavement leave
More Blog Entries:
California Pay Discrimination Claims Insight, December 5, 2022, Los Angeles Employment Lawyer Blog