As of last year, about 19 percent of people in the U.S. with a disability were employed – a notable increase from just a few years ago, according to the U.S. Bureau of labor Statistics. That's a notable increase from just a few years ago, though companies in California and throughout the country still have a ways to go when it comes cultivating inclusive workforces.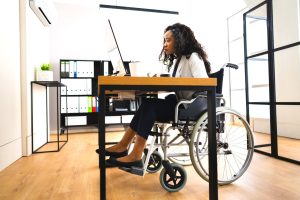 For job applicants with disabilities, knowing the basic foundations of your rights is important. The ability to clearly identify unfair treatment in the workplace is important, as is knowing what recourse may be available and who you can turn to for help.
Our Los Angeles disability discrimination lawyers recognize that most disability discrimination claims are going to be rooted in The California Fair Employment and Housing Act (FEHA), the Unruh Civil Rights Act, the Disabled Persons Act, and the federal Americans With Disabilities Act (ADA).
FEHA applies to California employers with 5+ employees, and prohibits disability discrimination of job applicants and/or employees. The Unruh Civil Rights Act, California Civil Code Section 51, provides protection from discrimination against all business establishments in the state on the basis of disability (among other things). The ADA prohibits discrimination on the basis of disability in employment, and applies to all government employers and any workplace with 15+ employees.
Understanding Disability Discrimination and Employee Rights
Our state-level provide greater anti-discrimination protections for workers with disabilities compared to federal law.
In California, disabilities are defined fairly broadly as conditions that limit major life activities. In that context, disabilities can be either physical or mental. They can also include medical conditions like HIV/AIDS and cancer. Not every condition that is covered by these laws is explicitly listed.
Disability discrimination is when an employer treats a qualified applicant or employee less favorably because of their disability. This is illegal. Further, protections extend beyond those who actually have disabilities and includes those who used to have a disability, those who are perceived by the employer as having a disability, and those who have a relationship with someone with a disability.
Workers with disabilities are entitled to reasonable accommodations in the workplace (with exceptions for "undue hardships," which is when doing so would impose significant difficulty or expense for the employer).
Other state-level employer responsibilities:
Must evaluate applicants regardless of actual or perceived disabilities. It is against the law for interviewers to ask about the nature or severity of disabilities. Prospective employees with disabilities also should not be required to undergo medical or psychological evaluations that aren't routinely given to other prospective workers.
Employers can ask an applicant about their ability to perform job-related tasks.
Employers should be responsive when asked for a reasonable accommodation. They can (though they aren't required to) ask for medical certification of the worker's need for reasonable accommodations.
Employers should engage in a good faith, timely, and interactive process when responding to a request for accommodations. This process can involve identifying which aspects of the job duties are essential, which accommodations may be possible, and whether a requested accommodation may pose an undue hardship to the company.
Remedies for Employment Discrimination
If you believe you've been unfairly treated and potentially discriminated against by a California employer on the basis of your disability, an employment lawyer can help you weigh the viability of a possible claim.
In general, when there is evidence of disability discrimination, there can be several forms of relief. For instance, if the effect of the discrimination is that they were denied a job for which they were otherwise qualified, the remedy might include job placement or promotion and back pay/benefits. The plaintiff might be compensated for attorneys' fees, court costs, expert witness fees, etc.
Beyond that, claimants may pursue compensatory and punitive damages. Where compensatory damages "compensate" plaintiffs for their losses caused by the employer's discrimination, punitive damages are intended as a punishment for discrimination that is especially reckless or malicious. Most often, we'll be solely pursuing compensatory damages.
Companies can also be ordered to alter their processes and undergo monitoring to make disability discrimination less likely in the future.
Contact the employment attorneys at Nassiri Law Group, practicing in Newport Beach, Riverside and Los Angeles. Call 714-937-2020.
Additional Resources:
Persons With a Disability: Labor Force Characteristics – 2021, U.S. Bureau of Labor Statistics