As of last year, about 19 percent of people in the U.S. with a disability were employed – a notable increase from just a few years ago, according to the U.S. Bureau of labor Statistics. That's a notable increase from just a few years ago, though companies in California and throughout the country still have a ways to go when it comes cultivating inclusive workforces.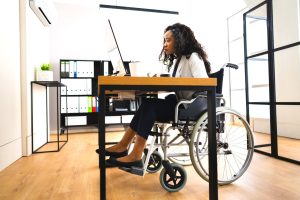 For job applicants with disabilities, knowing the basic foundations of your rights is important. The ability to clearly identify unfair treatment in the workplace is important, as is knowing what recourse may be available and who you can turn to for help.
Our Los Angeles disability discrimination lawyers recognize that most disability discrimination claims are going to be rooted in The California Fair Employment and Housing Act (FEHA), the Unruh Civil Rights Act, the Disabled Persons Act, and the federal Americans With Disabilities Act (ADA).
FEHA applies to California employers with 5+ employees, and prohibits disability discrimination of job applicants and/or employees. The Unruh Civil Rights Act, California Civil Code Section 51, provides protection from discrimination against all business establishments in the state on the basis of disability (among other things). The ADA prohibits discrimination on the basis of disability in employment, and applies to all government employers and any workplace with 15+ employees.
Understanding Disability Discrimination and Employee Rights
Our state-level provide greater anti-discrimination protections for workers with disabilities compared to federal law. Continue Reading ›