A restaurant owner and reality television star is facing a class action for California wage theft and meal break violations at the West Hollywood establishment. She and her husband/co-owner are accused of violating numerous state labor laws by failing to pay minimum wage or overtime, refusing to give employees pay stubs, not paying gratuities that were earned and not providing adequate breaks as required by law.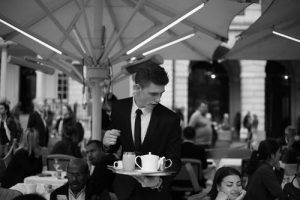 According to E! News, the plaintiff (filing on behalf of herself and others) alleges that her employers at SUR failed to follow the law for at least one of the last four years. Plaintiff was employed at the upscale establishment for three months, ending in January. While there, she was a hostess, tasked with answering phones, confirming reservations and seating patrons.
This is the second labor lawsuit that has been filed against the owners of SUR in recent months. Late last year, another former employee filed their own class action lawsuit alleging California labor law violations. That worker, a non-exempt employee for three months, was employed not only at SUR but also at the owners' other restaurants, Tom Tom and Pump Restaurant Lounge. He too alleges that for the last four years, workers were denied minimum wages and overtime, proper meal and rest breaks, accurate wage statements or pay stubs at the end of their employment.
A spokesperson for the owners insists the two cases involve disgruntled ex-employees who had received numerous written warnings before they were ultimately fired.
California Minimum Wage, Overtime Law
With some exceptions, almost all employees in California must be paid the minimum wage, as required and increased annually by the state. As of Jan. 1, 2020, the minimum wage for companies with 25 or fewer employees is $12/hr while for larger companies it's $13/hr. By 2023, the minimum wage will be $15/hr for companies of all sizes. It should be noted there is no distinction made between adults and minors when it comes to the minimum wage, and employees cannot waive their right to the minimum wage.
It should be noted that while federal law and the law in many states treats tipped workers differently, California does not. So while the federal minimum cash wage for tipped workers is just $2.13, it's still $12 or or $13 for employees in California. Furthermore, employers in California cannot use tips as a credit toward its obligation to pay the minimum wage.
The general overtime provisions in California, meanwhile, are that nonexempt employees over 18 and minors who are 16 and 17 must receive one and one-half (1.5) times the amount of their regular rate of pay for all overs over eight worked in any given workday and over 40 hours in a workweek. In some cases, employers may be required to pay double. Employers are required to pay it even if employees work unauthorized overtime, though the worker can be disciplined for violation of company policy. Workers cannot waive their right to overtime.
There are some exemptions, though. These include:
Certain executive, administrative and professional employees.
Hourly employees in the computer software field.
State or political subdivision direct employees.
Outside salespersons.
National service program employees.
Any person who is the parent, child or spouse of the employer.
Certain types of drivers.
Student nurses.
Airline workers.
Carnival ride operators.
Commercial fishing boat crews.
Professional actors.
Announcers, news editors or chief engineers.
Employees primarily engaged in work that is intellectual, managerial or creative, as long as they are already paid at least twice the minimum wage.
Babysitters under 18.
California Employee Break Laws
By state law, employers in California are required to authorize and permit employees to take rest periods that must – insofar as practicable – be taken in the middle of each work period. It's based on the total hours worked every day, with 10 minutes offered for every four hours of work. The rest period is considered time worked and must be paid. There are some exemptions in limited circumstances for those who work at 24-hour residential care facilities. Performers or athletes engaged in strenuous physical activities are entitled to additional interim rest periods. Employers are not entitled to impose any restraints, relieve employees of all duties and relinquish control over how the worker spends his or her time.
As for meal breaks, workers must be given a minimum of 30 minutes for every work period over 5 hours – unless the total work period for the day is no more than six hours. A second meal break is required for any employee who works more than 10 hours daily, except for those who work no more than 12 hours in a shift. Meal breaks can be waived by mutual consent of the employer and employee, and there are exceptions. Employees of the motion picture industry can work no longer than six hours without a meal break of between 30 minutes to an hour.
If you think you have been wrongly denied breaks or wages, our dedicated Los Angeles wage theft lawyers can help.
Contact the employment attorneys at Nassiri Law Group, practicing in Orange County, Riverside and Los Angeles. Call 949-375-4734.
Additional Resources:
Lisa Vanderpump Hit With Class Action Lawsuit Over Allegedly Not Paying SUR Restaurant Employees, Aug. 3, 2020, By McKenna Aiello, E! News