The overwhelming majority of American corporations listed in the Fortune 500 have settled at least one employment discrimination or sexual harassment lawsuit, according to a corporate industry study by a national accountability and development think-tank. Good Jobs First reports these included both individual employment lawsuits as well as class action claims, with 189 large firms like Bank of America and Coca-Cola and Walmart paying out nearly $2 billion in settlements and penalties since 2000 – roughly 35 percent of those stemming from private lawsuits (as opposed to those filed by the EEOC or Federal Contract Compliance Programs). Private lawsuits accounted for 79 percent of the $2 billion in payouts. Those are only the cases in which settlements were disclosed.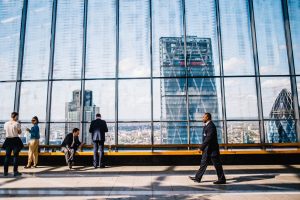 The big business that has paid the most in disclosed employment discrimination claims is Bank of America, which has paid approximately $210 million in settlements. Coca-Cola is a close second at $200 million, Novartis in third at $183 million, Morgan & Stanley fourth at $150 million and Abercrombie & Fitch rounding out the top five at $90 million. Of the parent companies that disclosed employment lawsuit penalties, 40 percent were involved in more than one case.
Walmart had the largest number of cases, but had paid out less than the others in the last 20 years – 52 million. The study authors note this likely would have been much higher if Walmart v. Dukes, a 2011 U.S. Supreme Court case had a different outcome. In that case, a female Walmart worker filed for class certification alleging gender discrimination, alleging some 1.6 million former and current employees of the company qualified for the class. In a split 5-4 decision, the high court reversed the Ninth District's ruling and determined the workers didn't have enough in common for class certification. 
Gender discrimination (under which sexual harassment is classified) was one of the top causes of action for employment litigation in the U.S., followed closely by allegations of race discrimination by an employer. Age discrimination was third while disability discrimination was fourth.
The report authors recommended – as our Los Angeles employment discrimination attorneys have long advocated – for an end to mandatory arbitration and non-disclosure agreements. The authors' reasoning was that companies that are publicly-traded and those working as federal contractors should be required to disclose publicly what they annually in employment litigation settlements. As attorneys for workers, we have seen that arbitration agreements tend to inhibit accountability and lead to better outcomes for the company – not the worker. (Both Facebook and Microsoft have agreed to end mandatory arbitration for employees and Google is under pressure to do the same.) Non-disclosure agreements, meanwhile, prevent workers not only from sharing things like trade secrets, but also coming forward with things like sexual harassment. That's exactly the sort of thing #MeToo spotlighted in sexual harassment cases against Hollywood mogul Harvey Weinstein, who was often protected by standard non-disclosure agreements.
Last year, California's governor agreed to sign legislation that ended non-disclosure agreements, but also vetoed a bill to end mandatory arbitration clauses in employment contracts.
Going up against a large corporation is no easy feat. It requires a legal team that is experience, has a history of success and is committed to ensuring the rights of each and every employee are protected.
Contact the employment attorneys at Nassiri Law Group, practicing in Orange County, Riverside and Los Angeles. Call 949.375.4734.
Additional Resources:
Big Business Bias: Employment Discrimination and Sexual Harassment at Large Corporations, By Philip Mattera, January 2019, Corporate Research Project of GoodJobsFirst.org
More Blog Entries:
Independent Contract Employees Lack Critical Workplace Discrimination Protections, Oct. 18, 2018, Los Angeles Employment Discrimination Lawyer Blog