A new study published in the New England Journal of Medicine reveals that sexual harassment, verbal abuse and gender discrimination are the catalysts mostly responsible for the high rates of burnout among female doctors.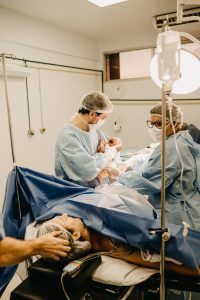 Physicians in general have high rates of burnout, defined just this year by the World Health Organization as a condition characterized by cynicism, emotional exhaustion, physical fatigue and reduced productivity resulting from unmanaged job-related stress. What this new study suggests is the problem is even greater for doctors who are women, and surgical residents in particular.
Another recent survey conducted by physician staffing firm Merritt Hawkins showed that more than three-quarters of female physicians responded in the affirmative when asked whether they had experienced gender-based discrimination in the workplace.
A full 75 percent said they had been subjected to words or actions that were inappropriate. This wasn't solely confined to their colleagues either. Nearly 60 percent said this had come from their managers and employers. Almost a quarter said patients had acted inappropriately toward them in word or deed. More than 40 percent said they had experienced sexual harassment.
On top of this, female physicians don't receive equal pay for equal work. Even when adjusted for their choice of specialty and work hours (night shift doctors tend to earn more), nearly 40 percent of female physicians earn less than their male colleagues.
Our Los Angeles workplace gender discrimination attorneys know that while it is encouraging that women are entering the medical field in record numbers, the fact that they are paid less and are subjected to various levels of discrimination has a profound impact on the profession. Three-quarters of female physicians said the discrimination they face damages morale, with nearly 45 percent saying it was so bad, they sought a new job due to harassment. Almost one-third said they retired early.
Over the course of one's career, the Merritt Hawkins researchers opined this could cost affected doctors hundreds of thousands of dollars as well as lost prestige and career advancement. For healthcare systems, it results in billions of dollars in lost productivity and high turnover.
The analysis in the New England Journal of Medicine surveyed roughly 7,400 surgical residents – 40 percent of them female. Of the women, 42 percent said they felt burned out, compared to 36 percent of the men. Women were also more likely to report having suicidal thoughts. Sixty-five percent of the female residents reported on-the-job mistreatment, compared to 10 percent of the male respondents. Twenty percent of the female doctors experienced sexual harassment, compared to 4 percent of the male doctors.
The harassment and discrimination also tended to come from different sources. For the female residents, patients and families were a significant source of inappropriate words and actions, while for men, it was usually from nurses or other staffers.
These findings were presented at the 2019 American College of Surgeons in Clinical Congress in San Francisco in October.
Another study published earlier this year in The British Medical Journal reflected similar findings, with female doctors more likely exposed to:
Sexist jokes
Sexual harassment
Weaker reference letters
Lowe incomes
Decreased likelihood of being addressed by their title
Evidence was drawn from practitioners in the U.S., Canada, Europe and the U.K.
Researchers concluded that to truly address the problem, it's not a matter of teaching female physicians skills to be more assertive. Rather, health care facilities should build checklists to be applied in the course of hiring, promotion and patient care analyses.
Contact the employment attorneys at Nassiri Law Group, practicing in Orange County, Riverside and Los Angeles. Call 949-375-4734.
Additional Resources:
Discrimination, Abuse, Harassment, and Burnout in Surgical Residency Training, Oct. 31, 2019, The New England Journal of Medicine