A former banking executive has filed a Los Angeles sexual harassment and rape lawsuit against her previous employer, alleging failure to protect her from a hostile work environment perpetuated by a co-worker. Not only did she endure vulgar behavior and gender-based harassment, she alleges her boss raped her and then retaliated against her – and the company dragged its feet in responding.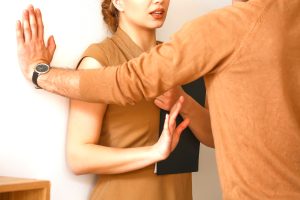 As our Los Angeles sexual harassment lawyers recognize, this type of workplace misogyny, mistreatment, and victimization occurs in workplaces of all kinds and between individuals of all positions and paygrades.
The National Sexual Violence Resource Center notes that sexual assault, harassment, and abuse are widespread issues impacting victims across the spectrum of race, gender identity, sexual orientation, income, disability, or other factors. While 60 percent of women say they've experienced unwanted sexual attention, sexual coercion, crude conduct, or sexist comments at work, 85 percent of those say they never file file formal charges and 70 percent never even file internal complaints. Employees victimized by sexual harassment are very likely to suffer PTSD, depression, and anxiety as a result. They may also endure related physical problems, including sleep problems, gastric complications, weight loss/gain, headaches, etc.
Sexual harassment is against the law, and if you are targeted in your workplace, our experienced, compassionate legal team can help – protecting your civil rights, advising you on the best legal strategies, and advocating for the best possible outcome in your favor.
In this case, according to court filings in Doe v. Wells Fargo Bank Corp. et al., plaintiff was hired as a senior vice president at the firm's Southern California branch in 2018. Almost immediately thereafter – and continuing/worsening until she says she was forced resign in 2021 – plaintiff said she endured sexual harassment.
Her allegations are as follows:
Sexually explicit comments and inappropriate touching by a co-worker, a managing director and senior investment strategist. This individual reportedly made comments about what clothing accentuated her figure, told her she aged like fine wine, groped her repeatedly at business events, tried to pressure her into staying at his second home without their respective families, repeatedly suggested she should exchange sex for money, urged her to divorce her husband, and said she should have sex with the son of a wealthy client. This individual also reportedly made numerous derogatory comments about women in general, referring to them as "dogs" and boasted about college days wherein he allegedly got women drunk to lower their inhibitions around him.
At an after-work dinner on a business trip with fellow supervisor colleagues (five others besides plaintiff, all men), her co-workers too her phone (which she'd left at the table while using the restaurant) and without her permission took inappropriate photos of themselves on her phone. They also reportedly took her credit card and her hotel room key. She proceeded to continue drinking with colleagues, getting increasingly intoxicated. One of her colleagues took her back to her room and left her there. Later, while she was asleep, her co-worker allegedly entered her room (presumably using the key he'd swiped from her purse) and sexually assaulted her. In recalling the incident and confronting him about it, she said the co-worker admitted to engaging her multiple times, despite knowing she was heavily intoxicated and had not given him permission to enter her room. At an appointment a week later with her gynecologist, it was reportedly revealed a rape test would be ineffective at that point, as would any evidence of a potential date rape drug (plaintiff suspected her drinks had been spiked).
Plaintiff went to her supervisor with these allegations, and was reportedly told she should "not give (the coworker) the opportunity to be inappropriate."
When the pandemic broke out, plaintiff asked a question about the "most appropriate way to come into work." Her co-worker reportedly responded suggesting swimsuit attire.
Over the next 8 months, she said she repeatedly complained to her supervisor, pointed out ongoing inappropriate comments, which included suggestions that she was "catastrophizing" the hotel incident, for which she was blamed, ridiculed, and not believed.
After filing a formal complaint, detailing the sexual assault and ongoing sexual harassment (accompanied by a report to law enforcement), the company reportedly failed to initiate an investigation – for months. She was further excluded from important work meetings and key communications. Ultimately, she says, she was forced to resign after taking medical leave for stress, anxiety, and depression. It was only during her medical leave, after receiving notice of a federal charge against them by the EEOC, did the bank's investigators begin earnestly looking into the allegations, gathering witness information, etc.
Plaintiff is now seeking compensatory and punitive damages, including lost wages and benefits, damages for emotional distress, medical expenses, and attorney's fees.
If you are victimized by sexual harassment or workplace sexual assault, call our dedicated team of employment lawyers in Los Angeles.
Contact the employment attorneys at Nassiri Law Group, practicing in Newport Beach, Riverside and Los Angeles. Call 714-937-2020.
Additional Resources:
Ex-Exec Says Wells Fargo Made Her A Pariah In Sales Scandal, Feb. 2, 2023, Law360
More Blog Entries:
California Employment Retaliation: Know Your Rights as a Worker, Jan. 3, 2023, Los Angeles Sexual Harassment Lawyer Blog