Five years ago, Jeff Gottlieb won the highly-coveted Pulitzer Prize while working as a reporter for the New York Times. Today, he is now preparing to face his former employer in court, alleging age discrimination following a years-long battle over the prize money.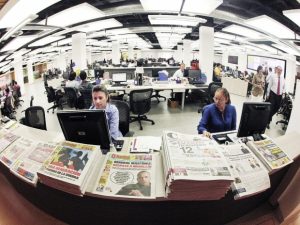 His complaint, Gottlieb v. Los Angeles Times Communications LLC, was filed recently in Los Angeles Superior Court, and asserts a number of events that unfolded after his work on the corruption in Bell, California was published. That as in 2010, and he resigned from the paper in 2015. He won the Pulitzer in 2011.
The lawsuit alleges the newspaper essentially forced him to resign and that the paper's editor and publisher frequently fired older employers with greater frequency than younger workers. The company also allegedly hired fewer workers older than 40 and employees on the younger end of the spectrum often were handed plum assignments and better benefits than their older counterparts. 
Additionally, plaintiff alleged that the editors kept from him a portion of the Pulitzer prize money that was meant for him and that this was done for a full two years.
The L.A. Times issued a statement in response to Gottlieb's lawsuit, insisting it was without merit. Editors told trade institution Poynter that the company did not and does not discriminate against its employees on the basis of their ages or any other factor. A senior editor at the paper said ageism had nothing to do with the deteriorated relationship between the paper and Gottlieb, and said his performance since winning the Pulitzer had been "lackluster." He described plaintiff has continuing on the victory lap when everyone else was leaving the stadium.
And yet, the company recently was ordered to pay $7.13 million by a jury in a similar age discrimination case by a former sports columnist. That verdict was later voided by a judge from Los Angeles County, but these similar accusations seem to indicate there was a pattern of behavior by editors, the publisher and other superiors.
Gottlieb alleges that after he won the Pulitzer for the series on government corruption in Bell, he went to his editor to inquire about the next assignment he should tackle. The editor reportedly told plaintiff he wasn't planning on adding anyone to the investigative team and instead assigned plaintiff to simply cover Orange County, a bureau office. Plaintiff expressed his ire over this decision and initially refused to go. However, the editor insisted and gave plaintiff no choice.
Over the next few years, he was only given one good assignment, covering the wrongful death trial of Michael Jackson. But other than that, he mostly covered religion and wrote obituaries. He took a health leave in 2015 for treatment of prostate cancer. When he returned, the nature of his assignments was "substantially inferior" to the work he'd done before.
Not long after, plaintiff quit. This prompted a remark by one of the metro editors in which it was allegedly said that when older and more experienced reporters quit, he made it a point not to talk them out of it.
Plaintiff alleges all this was part of a pattern of Orange County age discrimination that was intended to push him out.
Contact the employment attorneys at Nassiri Law Group, practicing in Orange County, Riverside and Los Angeles. Call 949.375.4734.
Additional Resources:
Pulitzer Prize-winner files age discrimination lawsuit against Los Angeles Times, August 2016, By Benjamin Mullin, Poynter
More Blog Entries:
Age Discrimination Alleged at Large Technology Firms, July 24, 2016, Orange County Age Discrimination Lawyer Blog