A top-level banking executive for Goldman Sachs is suing the company, as well as one of its managing directors, for what she says was racial discrimination and religious discrimination to prevent her from landing a major client.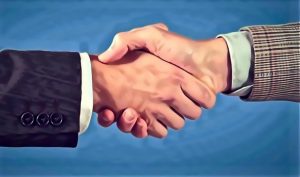 The lawsuit, filed by the company's vice president, who is both black and Jewish, alleges the managing director's prejudices against her specifically blocked this deal, but that she also faced a myriad of discriminatory comments focused on her her skin color and her religion. Specifically, she says comments were made questioning "how Jewish" she is, given the fact that she is African American.
CNBC reports the company has denied the allegations, underscored its commitment to diversity and intends to vigorously fight the claim. 
Claims of race or color discrimination are covered under Title VII of the Civil Rights Act of 1964. This same statute also protects those who face employment discrimination based on their religion, national origin and gender. The law prohibits discrimination against any employee for these reasons in the course of hiring, firing, promoting, paying, training or any other term, condition or privilege of employment. The law further bans employers from making any employment-related decisions on the basis of assumptions or stereotypes that exist regarding traits, abilities or performance of individuals from certain racial groups. In addition to targeting intentional discrimination, the law further bars neutral job policies that would negatively/ disproportionately impact these protected groups.
In this recent case, plaintiff was hired by the financial firm in 2012. Since then, she alleges that even though she delivered "outstanding work product and results," she was repeatedly discriminated against. When other colleagues left and their clients were redistributed among other team members, plaintiff alleges she was given far fewer and less valuable clients than her white male counterparts.
Further, plaintiff said that she invested three years working to build a potential relationship with the major client in question (CEO of a large drug company). The CEO had expressed his interest in committing large assets to the wealth management division in which she was working. But then late last year, plaintiff was suddenly taken away from that client without warning or explanation. This in turn cost plaintiff an anticipated $300,000 in annual compensation.
Soon after that decision was made, plaintiff's direct supervisor asked the investment banking division partner responsible for the move why it occurred, and the partner responded with an anti-Semitic comment, as well as other racially discriminatory comments. The direct supervisor opined plaintiff had been removed from the client relationship because of the fact she is black and Jewish. The supervisor told plaintiff he was deeply troubled by this response, and felt an obligation to report the conversation to the human resources division.
However, plaintiff said the supervisor never moved forward with his complaint, and later changed his story, and even alleged plaintiff was being "hypersensitive." It was only later, plaintiff says, that employee relations division administrators informed her she was taken off the client account because the client was unimpressed with her – something she called an outright lie.
The organization's bias, plaintiff alleges, is further underscored by the fact that out of its 32-person management team, only a single member is black.
Contact the employment attorneys at Nassiri Law Group, practicing in Orange County, Riverside and Los Angeles. Call 949.375.4734.
Additional Resources:
Black, Jewish Goldman Sachs executive sues firm for discrimination, claiming bias killed her chance to land Allergan CEO as client, Aug. 16, 2017, By Dan Mangan, CNBC
More Blog Entries:
How Federal Truck Regulations Can Make the Roads of California Less Safe, Aug. 15, 2017, Racial Discrimination Attorney in Orange County