One does not necessarily need to be a direct target of California workplace sexual harassment or racial discrimination to file a legal claim for damages. Retaliation against bystanders for brining such offenses to light can have a devastating impact on one's career. Employers have been known to respond to bystander reports of harassment and discrimination by giving whistleblowers less desirable shifts or duties, shutting them out from key professional opportunities/accounts/clients, or outright firing them.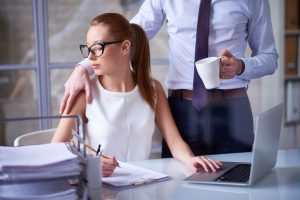 Fortunately, as our Riverside sexual harassment attorneys can explain, there are legal remedies for those who speak out to protect those most vulnerable in the workforce. One such case recently ended with a $460 million damage award to two plaintiffs in Los Angeles who alleged they were forced out of their jobs at the local electricity company after blowing the whistle on rampant sexual harassment and tolerance of racial epithets.
The Los Angeles Times reported the damage award included $440 million in punitive damages alone. Plaintiff attorney's had only asked the court for a quarter of that amount. That's on top of tens of millions in compensatory damages paid. Punitive damages, for those who may not know, are paid to penalize the defendant for especially egregious conduct. Compensatory damages, meanwhile, are intended to cover a plaintiff's actual losses (loss of wages, loss of benefits, loss of career advancement opportunities, emotional distress, etc.).
The company, which plans to appeal, acknowledged that the two reported that supervisors were engaging in sexually inappropriate conduct toward female employees. Plaintiffs alleged that the company had fostered a fraternity-like culture, where sexual harassment and racial harassment were not only the norm, but actively protected. Reported incidents were allegedly disregarded.
The defense, which plans to appeal, insist plaintiffs tried to exploit the distress of former female colleagues and tried to create liability where non existed.
But as one of the plaintiffs noted, within 30 days of reporting the harassment, six retaliatory complaints were filed against him. His lawyers alleged these complaints effectively forced him out of his position. As attorneys, we refer to this a constructive dismissal, which involves making working conditions so intolerable that employees are forced to resign.
Bystander Reporting Sexual Harassment
Title VII of the Civil Rights Act of 1964 prohibits workplace sexual harassment (as a type of sex discrimination). Harassment can happen between people of the same gender, different genders, coworkers, employee and customer/client, or an employee and supervisor (among other dynamics). it can occur in the workplace, at work-related events, or during work travel.
California sexual harassment can involve conduct a worker is forced to endure as a condition of employment, such as quid pro quo pressure to engage in sex acts in exchange for promotions, favorable hours/shifts, time off, positive reviews, etc. It can also involve intentional, recurring, severe/pervasive conduct that creates a hostile work environment. So maybe no one directly targets you and demands sex if you want to keep your job, but they constantly make offensive jokes, comments, insults, or share offensive images.
It is unlawful for employers covered by Title VII to retaliate against an employee for filing a claim of sexual harassment OR against a bystander for reporting it.
Bystander Intervention Strategies
Bystanders and witnesses to sexual harassment can be powerful allies for those experiencing direct sexual harassment at work. Those who witness sexual harassment are encouraged to:
Be direct. If you feel you can address the harassment safely, you can call it out in the moment. Tell them directly that the behavior is inappropriate, hostile, and intimidating. Tell them to stop. Bear in mind: This could escalate the situation, so it's important to make sure that both you and the direct target are safe before doing so. Consider filming it, if possible.
Try distraction. If a direct approach might not be safe, maybe try interruption. Intervene with an unrelated question or conversation, physically interrupt, or find a reason to call the aggressor or target out of that space.
Engage in delegation. Go directly to a supervisor, a human resources worker, or someone in security to help intervene in the situation.
Provide support. Even if you can't intervene in that moment, you can provide support to the target after the fact. Ask them what they need, and offer to be a witness.
Document everything. This may not be possible or wise in every situation, but if you can record an incident in the moment, that can offer the most concrete proof of wrongdoing. If not, write down the details immediately thereafter. Let the colleague targeted know that you have proof/evidence.
If you report the harassment or support someone who is a target – and are retaliated against for doing so – you may have grounds for a legal claim. Our dedicated Riverside sexual harassment lawyers can help.
Contact the employment attorneys at Nassiri Law Group, practicing in Newport Beach, Riverside and Los Angeles. Call 714-937-2020.
Additional Resources:
Bystander Intervention Tips and Strategies, National Sexual Violence Resource Center
More Blog Entries:
When Can I Sue for Wrongful Termination in California?, April 25, 2022, Riverside Sexual Harassment Lawyer Blog