Late last year, the California Department of Fair Employment and Housing (DFEH) announced there would be a ramped-up effort to identify and address violations of the state's so-called "ban-the-box" law, more formally known as the Fair Chance Act. The statute was enacted four years ago as an amendment to the state's Fair Employment and Housing Act, and bars employers with five or more employees from directly or indirectly asking about, seeking disclosure of, or even considering the conviction history of an applicant until after the applicant is extended a conditional job offer. This includes asking questions about it on job applications (typically a yes-no question with boxes that can be checked – hence the "ban the box" language).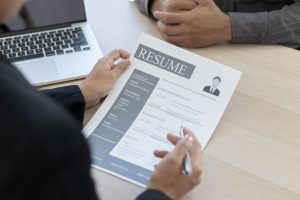 The law also does not allow employers to indicate on their job listings that they won't consider job applicants with criminal history. If you see a job advertisement in California with language like, "Must have a clean record," or "No felons," it probably violates the ban the box law.
Despite the well-publicized passage of this statute, state regulators continue find non-compliant advertisements and other hiring materials, particularly online. In fact, the DFEH reported that in just one day spent reviewing online job ads with technology designed to facilitate mass searches. In that single day, the agency uncovered more than 500 ads containing illegal statements, indicating job seekers with criminal backgrounds wouldn't be considered. The agency apparently decided against penalizing the offending employers, and instead issued notices of violations and warnings to remove the unlawful portions of their ads.
As our Los Angeles employment lawyers can explain, the legal consequences for failure to comply with the Fair Chance Act can include not only the remedies pursued by FEHA, but compensatory damages, punitive damages, and attorney's fees from the prospective employees adversely impacted.
California Ban the Box FAQ
California's ban the box law is commonly misunderstood by job applicants and employers alike. The law is intended to give ex-offenders a chance to have a prospective employer review their application based on their qualifications, without simply being automatically disqualified because they have a criminal record. It became effective Jan. 1, 2018.
It's worth noting that a number of big cities – including Los Angeles – already had their own ban the box laws when the state law was passed. In L.A., the Fair Chance Initiative for Hiring was passed in 2017. Similar to state law, it stipulates that employers can't inquire about one's criminal background prior to making a conditional offer of employment. Once a conditional offer of employment has been made, then the employer can perform a criminal history check. The employer will be required to follow any local, state, and federal rules and requirements for for requesting review of the person's criminal history. If the company is a temporary help firm, the "conditional offer" is considered to be issued when the person is put into the pool of applicants from which they may be sent to the temporary position.
It should be noted that there is nothing in FCIHO or the FCA that requires employers to perform criminal history checks on applicants. If the employers' process didn't require a criminal history check before, the law doesn't require it now. With a few exceptions, job-related criminal background checks only go back 7 years.
Under FCA, aren't allowed to ask about criminal convictions during the interview or at any time prior to making a conditional offer of employment. This includes during a second interview or final round of interviews, so long as an offer of employment hasn't been extended.
If the employer ultimately does intend to take some sort of averse action against a job applicant based on their job history (after issuing a conditional offer of employment), both the FCA and FCIO require the employer to conduct an individualized assessment that connects specific aspects of their criminal history with risks inherent in the duties of employment sought. For example, a nursing home employer may have legitimate reason not to hire someone as an aide responsible for the care of vulnerable people when the applicant has a criminal background that includes a recent violent offense. Still, employers need to consider the nature and gravity of the offense (including the harm caused), how much time has passed since the offense (long-ago convictions are going to be less significant than more recent ones), and the nature of the job duties. Someone caring for children or vulnerable adults will be scrutinized more carefully than someone who is going to be working on a factory floor.
FCA expressly does not apply to those working for state/local agencies required by law to conduct background checks, criminal justice agency positions, farm labor contractor positions, and any position where an employer/agent is required by state, federal, or local law to conduct a criminal background check.
Under FCHIO, employers can only consider convictions – not arrests – with regard to employment decisions. FCA also bars employers from considering other criminal history that didn't end in convictions – including referral to/participation in a pre-trial/post-trial diversion program. They also aren't allowed to consider convictions that were sealed, expunged, or dismissed.
If the employer withdraws a prior offer employment, they must provide the applicant with a written notification, a written copy of the individual assessment, and any other supporting documents.
If you are disqualified, you may have the opportunity to respond in writing within 5 days to the employer's preliminary decision before that decision becomes final. This response might be warranted if there were inaccuracies in the conviction history report that you want to correct so the employer can reconsider.
Legal Options if an Employer Violates Ban the Box Rules?
If an employer illegally asks about your prior criminal record in violation of California's ban the box law, you can file a complaint with DFEH or file a lawsuit against the employer.
In either case, you should consider discussing your legal options with an employment attorney, who can explain your right to equitable relief and/or money damages. You can recover damages for attorney's fees, court costs, and other expenses associated with pursuing the case.
Initial consultations with an employment law firm are free.
Contact the employment attorneys at Nassiri Law Group, practicing in Newport Beach, Riverside and Los Angeles. Call 714-937-2020.
Additional Resources:
Fair Chance Act: Guidance for Employers and Job Applicants, DFEH
More Blog Entries:
Steps for Filing a California Employment Discrimination Lawsuit, Feb. 22, 2022, Los Angeles Employment Lawyer Blog