Are COVID-19 vaccine mandates legal in California? It's a query increasingly being asked of our Los Angeles employment attorneys.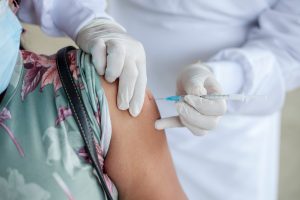 Employer vaccine mandates may soon become the norm, at least in California, if not beyond. Large employers – particularly those in California and New York – are moving to have their employees get vaccinated or tested regularly for COVID-19. Recently, the U.S. Department of Veterans Affairs mandated vaccines for its health care workers and President Joe Biden is expected to announce that all federal employees will be required to either be vaccinated or regularly tested. Masking mandates are also coming back into effect. As of right now, many private sector employers have stopped short of requiring vaccines as a condition of employment, but the growing thread of the Delta variant of the coronavirus may compel them to shift course. A growing number of L.A. bars and restaurants are going so far as to require patrons – let alone employees – to prove they are vaccinated.
Generally, employers can mandate vaccines, but it depends on where you live. Further, as a Los Angeles employment lawyer can explain, accommodations must be made for those with religious exemptions and disabilities, as well as those in unions.
The thinking behind these initiatives is that unless and until more people are vaccinated, infections, hospitalizations and deaths are likely to increase drastically across the country. With this, many major companies such as Lyft, Google and Facebook are requiring worker vaccines, as are universities. The only exceptions are those with medical or religious exemptions.
In response, we're starting to see some employment lawsuits (wrongful termination) crop up. In Texas, for example, a hospital faced a lawsuit from more than 100 employees who were vaccine averse. There are also university students in Indiana who allege the school's vaccine mandate is unconstitutional.
However, the history of vaccine mandates in the U.S. is actually a long one. In the early 1900s, many schools and employers required proof of smallpox vaccinations, in some cases requiring students and workers to show their scar when concerns about forgery arose.
In the Texas lawsuit, plaintiffs are arguing that because the vaccines are authorized under the FDA's Emergency Use Authorization process (and not yet fully approved as a full Biologics License Application), they should not be subject to mandates. A federal court in Texas flatly rejected this argument, finding the EUA doesn't expand or restrict private employer responsibilities, doesn't apply to private employers and is not coercive or akin to human experimentation. Aside from that, the FDA may soon give BLA approval to at least one of the vaccines soon, making that whole argument moot anyway.
As far as university students, a federal court in Indiana rejected their arguments that the vaccine wasn't constitutional, finding students have options:
Take the vaccine
Apply for a medical exemption
Apply for a medical deferral
Take a semester off
Attend another university
The court noted that while it may be a difficult choice for some, it is a choice nonetheless.
But assuming there are disability and religious-related exemptions and accommodations, there may still be some caveats. Many of the lawsuits challenging vaccine mandates take issue with violations of federal law. A number of states have passed or introduced measures that bar companies or schools from requiring vaccines or using "vaccine passports." Some of these are applicable only to public institutions. In Florida, though, state lawmakers passed a bill prohibiting businesses from requiring customers/patrons to produce proof of vaccination or post-infection recovery to gain access or entry. Some in the state are already defying that law. A similar measure is in place in Texas for public but not private universities.
Unless and until the country passes a federal law that requires vaccine mandates or verification under certain conditions, we'll continue to see a patchwork of state government laws.
If you are concerned you've been wrongfully terminated under vaccine mandate rules, our Los Angeles employment lawyers can weigh the facts and tell you if you've got a case.
Contact the employment attorneys at Nassiri Law Group, practicing in Orange County, Riverside and Los Angeles. Call 714-937-2020.
Additional Resources:
Can Your Employer Require That You Get Vaccinated? It Depends Where You Live, I. Glenn Cohen, Aug. 2, 2021, TIME Magazine