One would think that as workplaces become more progressive and inclusive that pregnancy-based discrimination would increasingly become an issue of the past. Unfortunately, pregnancy discrimination, harassment, and retaliation in California workplaces have continued to rise the past five years.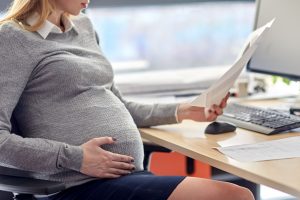 The U.S. Department of labor reports 85 percent of women will become mothers while working.
According to analysis by Bloomberg Law, the number of federal pregnancy discrimination lawsuits has been climbing since 2016, with a sharp uptick in 2020 and 2021, the latter potentially setting a new record – despite declining birth rates. As our Orange County pregnancy discrimination lawyers know, there are a few explanations for this. Among them:
Economic instability has always created vulnerability for pregnant workers. Employees who need parental leave and make use of employer-supplied health insurance benefits are inevitably going to cost employers more, at least in the short term.
When the economy is in flux, it can be tougher to find a new job after you've lost you're old one. If you're one of those who have lost their job unfairly – and are having a difficult time landing a new one – you may be more motivated to take legal action against your employer, partly because the economic damage suffered is more significant – especially if you now have an additional dependent.
In the earliest days of the pandemic, there was heightened concern that pregnant women might be at higher risk of infection and/or having severe reactions. Some adverse employment actions may have been taken with good intentions, but that doesn't necessarily make them legal. Pregnant women were often among the first laid off at the start of COVID-related shutdowns.
When the U.S. Equal Employment Opportunity Commission restarted issuing Notices of Right to Sue back in August of 2020, there was a backlog that had to be processed fairly quickly. Individuals have 90 days to sue from the time they receive that green light. That could account for some of the uptick in 2020 cases.
Do I Have the Right to Sue for California Pregnancy Discrimination? 
Pregnancy discrimination cases can arise from failure to hire, demotion, failure to reinstate after pregnancy/childbirth leave, termination, failure to accommodate (including lactation) and more. Discrimination based on pregnancy is often attributed to inaccurate stereotypes, including misguided notions that pregnant women won't perform their duties as well and mothers won't fully commit to their jobs because they have kids. Potential employers continue to illegally ask female applicants if they have children or intend to. They may tell wrongly current workers they can't accommodate them in pregnancy because of the physical nature of the job.
There are both federal and state protections against pregnancy discrimination and retaliation.
State laws in California include the Fair Employment and Housing Act (FEHA), the California Labor Code (providing for lactation rights), the Pregnancy Disability Leave Law (PDLL), and the California Family Rights Act (CFRA). Lawmakers enacted numerous additional protections for pregnant workers back in 2012. Four years later, the state required employers provide employers with notice of updated rights and obligations as a pregnant employee, explaining protections as outlined in the law.
Under the PDLL, pregnant employees with a disability can take up to four months leave, plus an additional three months to bond with the baby. This leave can be taken intermittently.
At the federal level, protection for pregnant workers isn't always crystal clear. Pregnant workers aren't automatically entitled to workplace accommodations under the Pregnancy Discrimination Act of 1978 (an amendment to Title VII). Instead, they have to show the employer offered accommodations to other, similarly-situated non-pregnant workers. Only then are employers legally obliged to extend comparable accommodations to workers who are pregnant. The U.S. Supreme Court held in 2015 that increased costs of adding pregnant workers to the group of accommodated employees isn't a "legitimate business reason" for failure to accommodate.
Workers also have the Family and Medical Leave Act (FMLA).
There is also a proposed federal bill, the Pregnant Workers Fairness Act, that would expand the right to accommodations to pregnant workers.
Despite all these protections, our Los Angeles employment lawyers know that too many companies are unaware of these rules or simply don't follow them.
Common Pregnant Worker Accommodations
Research has shown that employment discrimination of pregnant workers has been linked (indirectly) to lower birth weights, greater number of doctor visits, and an increase of postpartum depression.
An employee who is pregnant may ask for the following accommodations:
Transfer to a less strenuous post, if available.
More frequent breaks (including for the restroom).
Modified equipment.
Modified duties.
Providing time off for medical appointments.
Providing time and appropriate accommodation for lactation.
Too often, pregnant employees shy away form telling their employers about it until the last possible minute, for fear their assignments will be slashed or they'll be passed over for important duties or promotions.
In these cases, emotional damages and punitive damages awarded may be significant. The worker goes from what's supposed to be one of the happiest times in their lives to suddenly being jobless and facing financial hardship.
Given the high stakes in these cases – and the potential for adverse publicity – many cases are fairly resolved through mediation. If you believe you've been discriminated against, our experienced employment attorneys in Southern California can help.
Contact the employment attorneys at Nassiri Law Group, practicing in Newport Beach, Riverside and Los Angeles. Call 714-937-2020.
Additional Resources:
Pregnancy Related Cases Continue to Rise in 2021, Oct. 6, 2021, By Eve Wagner, Law.com
More Blog Entries:
Worker Says California Pregnancy Discrimination at Amazon Caused Her to Miscarry, Aug. 29, 2021, Orange County Pregnancy Discrimination Lawyer Blog