A hospital is asking the California Supreme Court to dismiss an employment lawsuit filed by a travel nurse who has already settled with the agency that directly hired her. The court's decision in Grande v. Eisenhower will have potential implications for the hundreds of thousands of California workers employed by staffing agencies.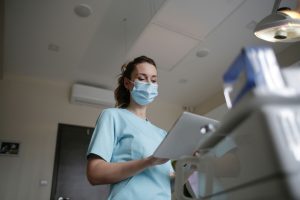 There are an estimated 1.7 million traveling nurses employed in the U.S., a figure that's grown substantially in recent years given how much more registered nurses and other health care professionals can make when they work with these agencies.
Our Orange County employment lawyers know the question here will be whether travel nurses – and others who work contract positions through agencies – will have grounds to take legal action against both the agency and the company where they worked.
According to court records, plaintiff worked for the agency at a hospital she said denied her required meal and rest breaks earned, wages for certain time frames when she worked, and overtime wages. She was a plaintiff in a class action lawsuit against the travel agency that assigned employees to hospitals throughout the state of California. The traveling nurse agency ultimately settled with the class – including this nurse. She received $162, as well as a class representative incentive bonus of $20,000. When the settlement was signed, she executed a release of all claims against the agency.
About a year later, plaintiff filed a second class action lawsuit – based on the same labor law violations – except this time, the defendant was the hospital where she worked. The hospital had not been a party to the previous lawsuit. The staffing agency intervened in the case, and insisted plaintiff could not bring a separate lawsuit against the hospital because all claims relating to this conduct had been settled with them in the previous class action.
The trial court ruled in turn limited questions as to the propriety of the lawsuit, and found that the hospital wasn't released as a party under the previous settlement agreement nor was it in privity with the agency, and thus could not avail itself of the doctrine of res judicata (the principle that a case of action can't be litigated more than once if it's already been judged on its merits).
Attorneys for the hospital filed a writ of mandate and the staffing agency appealed. The California Court of Appeals in a 2-1 decision affirmed the trial court and denied the petitions of the two companies.
Now the question is before the California Supreme Court. Continue Reading ›